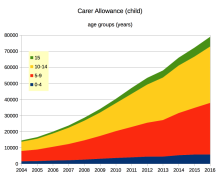 Media Release
The latest national data shows the number of children diagnosed with autism spectrum disorder (ASD) continues to grow at a substantial rate. In June 2016, there were 78,951 autistic children getting Carer Allowance (child) which is an increase of 9.4% from 2015. Another 2,000 children listed autism in their next three disabilities. In June 2015 there were 72,184 children and in June 2004, there were 14,495 children aged 0-15 years getting Carer Allowance (child) with ASD as their first-listed disability.
Just over 6,000 children were diagnosed with autism in the 2015-16 financial year; an average of 16.5 new autistic children each day. Over 2.46% of children aged 10-14 years are autistic.
In 2016, there are 62,609 boys and 16,342 girls. The male to female ratio is 3.8:1. There is serious concern that many girls miss out on diagnoses and on the services and supports that they need.