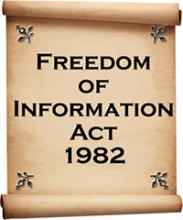 Dear FOI Team
Thank you for the information that you provided.
I notice that the document you provided does not include:
a record of the ABC's FoI request, and
the list of documents in the response.
As they are not in the disclosure log, please would you also provide these documents?
Bob Buckley
Convenor, Autism Aspergers Advocacy Australia (A4)
website: http://a4.org.au/
A4 is the national grassroots organisation advocating for autistic people, their families, carers and associates. A4 is internet based so that Australians anywhere can participate.
Politicians and bureaucrats, note A4's policy on unanswered questions at http://a4.org.au/node/1419.
"The first step in solving any problem is recognising there is one." Jeff Daniels as Will McEvoy in The Newsroom.
On 11/12/19 11:04 am, foi wrote:
Dear Mr Buckley

Thank you for your below request seeking access to documents from the Agency's Disclosure Log.

Please find attached the following document:

            'FOI 19.20-344 - Disclosure Log – Documents'

I apologise in the delay in providing you the document.

If you are unable to open the attachment please do not hesitate to contact the FOI Team by reply email.

Kind regards

FOI Team
Legal Services Branch
Governance, Legal & Compensation
National Disability Insurance Agency

Email foi@ndis.gov.au

From: ASD Advocacy Australia <advocacy4asd@gmail.com> On Behalf Of Bob Buckley (A4 Convenor)
Sent: Monday, 18 November 2019 3:36 PM
To: foi <foi@ndis.gov.au>
Subject: Request for information released for freedom of information request 19/20-0344

Dear madam/sir

Please can you provide an electronic copy of Freedom of Information materials 19/20-0344 release on 31/10/2019 relating to "Information about NDIS wait times".

--

Bob Buckley
Convenor, Autism Aspergers Advocacy Australia (A4)
website: http://a4.org.au/

A4 is the national grassroots organisation advocating for autistic people, their families, carers and associates. A4 is internet based so that Australians anywhere can participate.
Politicians and bureaucrats, note A4's policy on unanswered questions at http://a4.org.au/node/1419.

"The first step in solving any problem is recognising there is one." Jeff Daniels as Will McEvoy in The Newsroom.

********************************************************************** IMPORTANT: This e-mail is for the use of the intended recipient only and may contain information that is confidential, commercially valuable and/or subject to legal or parliamentary privilege. If you are not the intended recipient you are notified that any review, re-transmission, disclosure, dissemination or other use of, or taking of any action in reliance upon, this information is prohibited and may result in severe penalties. If you have received this e-mail in error please notify the sender immediately and delete all electronic and hard copies of this transmission together with any attachments. Please consider the environment before printing this e-mail **********************************************************************