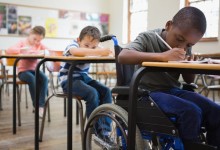 Kathy Cologon, Macquarie University
More than 12% of students with disability are being refused school enrolment, and over 40% are being excluded from school events and activities.
These are some of the findings from a survey published today by the national organisation Children and Young People with Disability Australia (CYDA). More than 500 young people with disability, and families of students with disability, shared their experiences with the education system over the past year.
The system of both mainstream and segregated schooling is often claimed to be a result of parent choice. But families in the survey said students were denied enrolment for reasons including schools advising they lack the necessary resources.