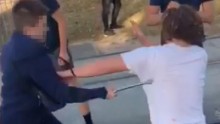 The mother of a boy with autism who was assaulted with spanners outside a Melbourne school wants police to charge his teenage attackers.
Quinn Lahiff-Jenkins, 14, was attacked outside Northcote High School, in the city's inner-north, on Tuesday afternoon.
They had armed themselves with spanners and turned on another boy when he tried to help the victim.