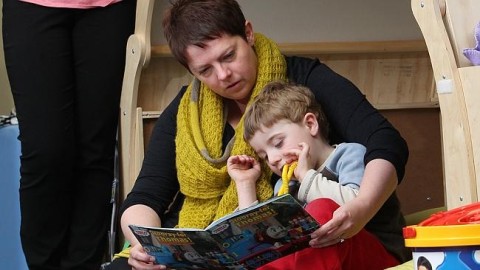 The future of six childcare centres that support autistic children has been secured, with Tony Abbott announcing more than $16 million in funding to keep them operating for at least 3½ years.
The Prime Minister's announcement came just in time for childcare manager Kathryn Fordyce, who was concerned she would lose staff while waiting for new funds for her centre in Burnie, northwest Tasmania.
Mr Abbott said the money would help the Autism Specific Early Learning and Care Centres adapt for a "successful and smooth transition" to the nat­ional disability and insurance scheme.
The centres were established with bipartisan support in 2007 and use an innovative early learning intervention model, providing specialised help for children from birth to six years old who have autism spectrum disorders.
"It's more than just what we do for the children," Ms Fordyce said. "The centres nationally are contributing to research in autism.
The Tasmanian centre and others in Melbourne, Sydney, Adelaide, Perth and Brisbane will receive more than $16m from 2015-18, and all will have their funding extended until the end of this year. Their contracts had been due to end in July.
A joint statement released by Mr Abbott and Assistant Minister for Social Services Mitch Fifield said the money would deliver certainty to the children and their families.
"Early intervention is the key to helping children with disabil­ity develop their capacity for participation at school and other settings, which in turn is crucial to helping them attain their goals now and later in their life," the statement read.
from http://www.theaustralian.com.au/national...
---
Editorial: The article contains some misinformation. The six Autism Specific Early Learning and Care Centres (ASELCC) were a Rudd election promise made the day before John Howard announced the Helping Children with Autism package. It was Labor's attempt to trump the Liberal's announcement. The Liberals did not promise ASELCC, they were not bipartisan. 
The National Disability Strategy 2010-2020 claims there are 8 ASELCC. But there are only 6; if Government cannot get such a simple number right in it's long-term policy documents then how much more can you believe?