Robyn Vahua dedicates a huge chunk of her week just trying to prove to the NDIS that her son has a disability and needs funding. Now she's worried he won't be able to keep living with her.
Robyn Vahua might not be able to keep her 11-year-old son Aristotle at home, because the National Disability Insurance Scheme doesn't believe he deserves funding for his complex conditions.
"He is at risk of being removed from home because of his behavioural issues towards other family members," she said through tears.
"We keep getting our funding cut, and I don't want to lose my child, he should stay with me."
The Toowoomba mum was one of dozens of carers and participants who attended a special NDIS forum on Wednesday hosted by former opposition leader Bill Shorten and Labor's Groom candidate Gen Allpass.
Ms Vahua, whose son has autism, ADHD and behavioural issues, said she gave up her full-time job to dedicate the time needed to get Aristotle into doctor's appointments and fill out reports to prove he needed support.
To date, his package is just $7000, which barely covers his in-home care.
"We actually have reports from psychologists, psychiatrists, family doctors, which all say that he needs in-home help," Ms Vahua said.
"They constantly want proof, so every year I pay thousands of dollars to be sent through to the NDIS.
"It is hell, I'm not going to lie. Every time I hear the words NDIS report, my whole body shuts down because I don't want to deal with them.
"I had to step down from a management position because of the time I had to take to prove my son's conditions."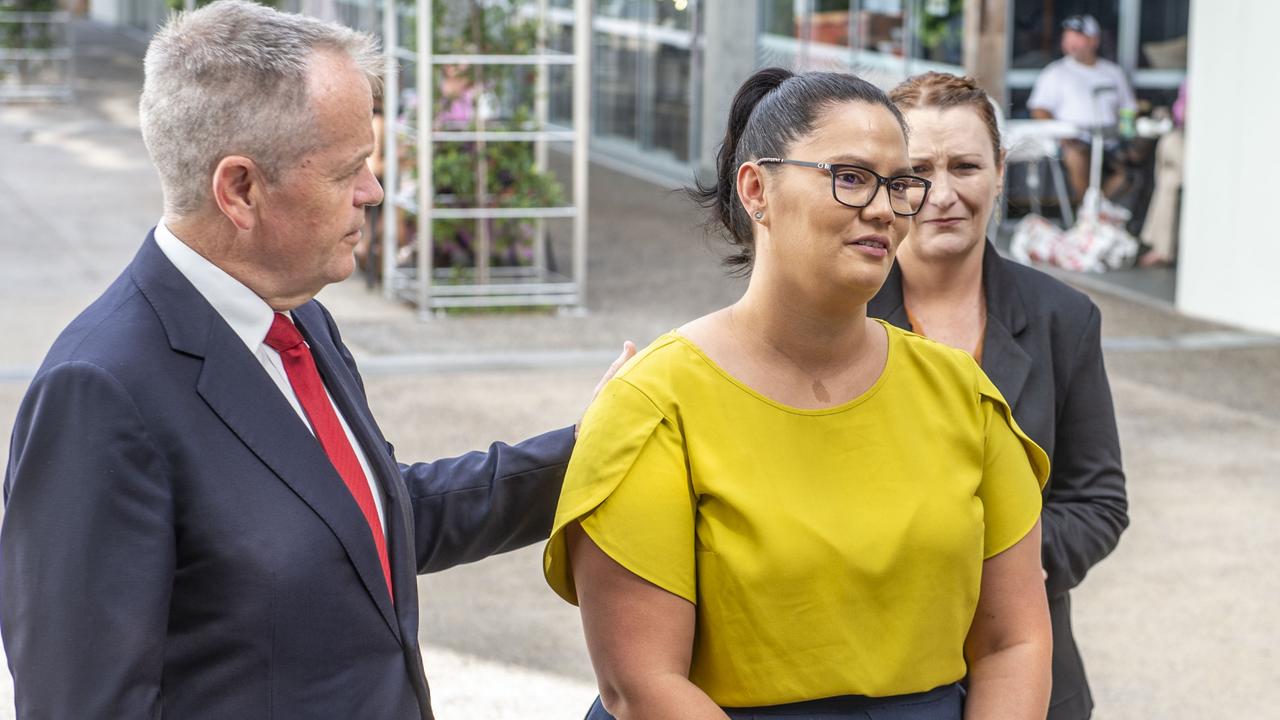 (from left) Bill Shorten, Robyn Vahua and Gen Allpass. Picture: Nev Madsen.
Mr Shorten, the ALP's NDIS spokesman, said Toowoomba participants on the scheme were having their plans slashed and were unable to spend a quarter of what they were given due to what he said was government incompetence.
"There are 6500 people who receive payments from the NDIS because they have severe or permanent impairments," he said.
"The problem is these packages are getting cut.
"While people in this region are getting about $74,000 on average in their plans, what we're discovering is they're only able to spend about 74 per cent of that.
"The Morrison Government gives them money, but because of red tape and the poor administration of the scheme, the money is imaginary, it's fictional."
Mr Shorten said the Federal Government should focus on predatory providers who were over-charging and defrauding the system, rather than going after participants.
"I would stop persecuting the people on the scheme, and I'd take some of the red tape out of it and I'd go after the defrauders and sharks."
from https://www.couriermail.com.au/news/toowoomba/toowoomba-mum-of-son-with-autism-adhd-slams-national-disability-insurance-scheme-over-funding-troubles/news-story/390334ee4fb5553eaca309c8396a15ac