Eighteen people linked to a special needs school in Sydney's north — including seven students — have tested positive for COVID-19.
Key points:
Parents were first notified a staff member tested positive on August 5
Seven students, three staff and eight family members are now positive
NSW Health says it does not disclose details on venues of concern unless there is a public health risk
The Giant Steps school in Gladesville caters for students with severe autism and has closed its doors after becoming aware of a positive case last week.
In a letter to parents, seen by the ABC, the school confirmed three staff members and eight family members of current students had also contracted the virus, bringing the total number of cases connected with the school to 18.
Families at the school were first informed about a staff member testing positive on August 5, after which the school was closed.
Two days later, NSW Health informed the school that a student had also tested positive.
In a letter sent to parents on Thursday, families were told "everyone in a household isolating together must get tested today — Day 7".
The letter said some students would be exempt from being tested in cases where it was "too difficult and stressful" or if they were primary-aged siblings.
"For GS students who find testing difficult there is the option of doing the saliva/mouth swab today or if it is very difficult then this testing can be missed as the critical test day is Day 12," the letter read.
"We are all sending our families, staff and students lots of love and support throughout this time and I know this is appreciated.
"Our number one priority is with families and staff who are positive."
The school, which was established in 1995, has students from early childhood education to adult support services and is independently run by parents providing best practice care for those with high needs.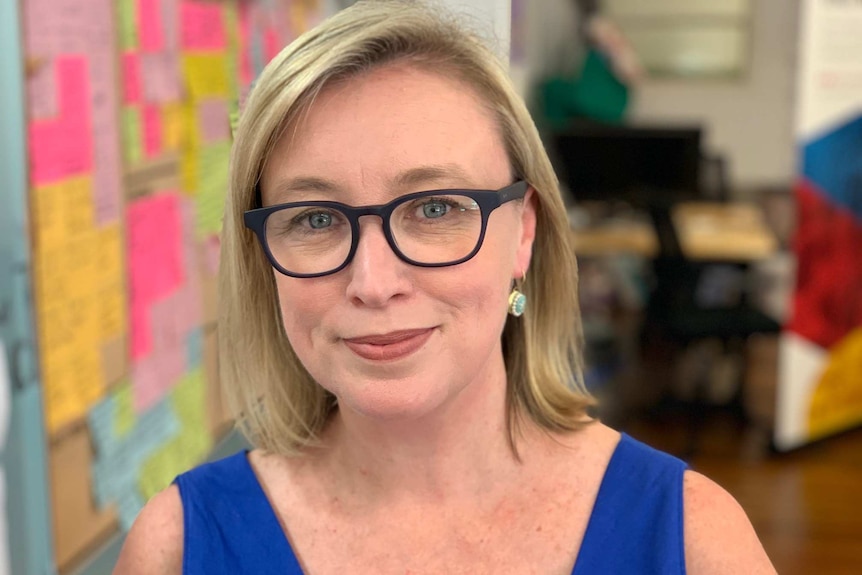 Nicole Rogerson says special needs staff, students and support workers need to be vaccinated.(Supplied: Nicole Rogerson)
Nicole Rogerson from Autism Awareness Australia said it was sad but unsurprising that an outbreak happened within a school for special needs children.
"I'm so sorry to hear that this has happened, but I'm not shocked," she said.
"We all know that Delta is a game changer and we've all worried that there would be an outbreak in a disability home or special school."
She said the federal government had not done enough to ensure residents, students or support workers had been vaccinated.
"For months, people in the disability community have been told they would be in first phase rollout but so many are still unvaccinated, including support workers and people that work in organisations."
She said while parents of those who attended Giant Steps loved the school and said it had been helpful in managing the outbreak, she was not sure why information about the cases had not been revealed by health authorities.
"It baffles me why NSW Health has not been prepared to make a statement about this today.
"Nobody placing blame here — it's a pandemic."
Ms Rogerson said there also needed to be more specific testing and vaccination regimes for those with severe autism and intellectual disabilities.
A NSW Health spokesperson said it did not disclose details about venues of concern unless there was "a public health reason".
"When a confirmed COVID-19 case attends a venue while possibly infectious, NSW Health carries out a risk assessment on that venue to determine whether other people may have been exposed, and whether there is a public health risk," the spokesperson said.
"NSW Health takes proactive steps to contact all close contacts of the case, to give advice on testing, isolation, symptoms to be aware of, and their level of risk."
NSW Health said it was working with the school to support its students, their families and staff in isolation.
Giant Steps has been contacted for comment.
from https://amp.abc.net.au/article/100373240
see also https://www.smh.com.au/national/nsw/desperately-worried-outbreak-at-sydn...