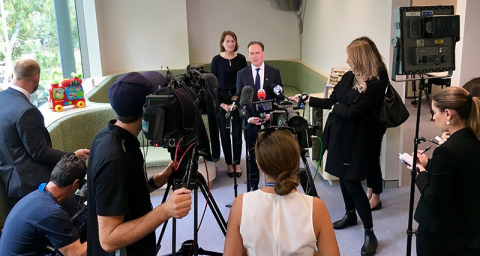 Western Australian babies and children with autism and developmental delay will be able to access world-first therapies and interventions backed by the latest research, thanks to a unique clinical service developed by the Telethon Kids Institute.
CliniKids, the first clinic of its kind in Australia and the first stand-alone clinical service to be offered by Telethon Kids, was officially launched today by Federal Health Minister, The Hon. Greg Hunt MP.
It will bring proven treatments from around the globe to families with children who are developing differently, as well as working to develop new therapies of its own.
Leading autism expert Professor Andrew Whitehouse, who is heading up the work of CliniKids, said all interventions offered by the clinic would be best practice and evidence-based, but families would be able to access them much faster than previously.
---

"Traditionally there has been a 15-year lag for new research to be put into clinical practice," Professor Whitehouse said. "This one-of-a-kind clinical research service aims to close that gap."

---
CliniKids will support children from as young as six months old in a carefully designed setting which takes into account sensory needs and creates a welcoming, safe space.
A team of clinicians including speech pathologists, occupational therapists and clinical psychologists will work with families to provide individualised, evidence-based therapy to children with autism and developmental delay.
The clinical team will collaborate closely with Telethon Kids' world-leading autism research team, headed by Professor Whitehouse, to ensure each intervention is based on the latest research innovations and supported by evidence.
Within the clinical services offered by CliniKids, and supported by a $3 million NHMRC Investigator Grant, Professor Whitehouse and team will work to develop and implement world-first therapies for newborns with a family history of autism.
"Funding from the grant will also be used to better understand and develop individualised treatments for children with autism," Professor Whitehouse said.
He said the clinical-research service was the culmination of 10 years of dreaming.
"We know that Perth and Australia have the potential to lead the world in the support of children with autism," he said. "We have the world's best clinical training, brilliant scientists, and a local community that is passionate and thirsty for innovation.
"CliniKids brings together these critical elements to create a clinical research centre that we hope will change the way we provide care to children with autism and other developmental disorders."
Professor Whitehouse said the team's vision was for every community to have a version of CliniKids – a centre that continually innovated to provide the optimal clinical care to children with developmental disabilities.
"This is a vision that is shared by the Australian Government and the generous donors who brought CliniKids to life."
Telethon Kids Institute Director, Professor Jonathan Carapetis, said CliniKids was the first stand-alone clinical service to be offered by the Institute.
"With the launch of CliniKids, we have a unique opportunity to not only ensure that the latest research is put into practice, but that the clinic provides a base for research that continues to improve evidence and knowledge," Professor Carapetis said.
"Integrating research with clinical practice within a research institute is a new way for us to ensure we deliver on our vision of applying knowledge to improve the health, development and lives of children and young people."
Read Minister Greg Hunt's media release here