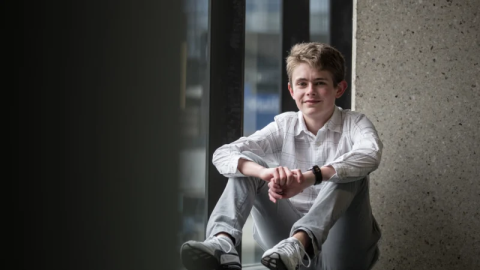 Henrietta Cook
An increasing number of students with autism are being excluded from mainstream classes according to new research which raises concerns about the segregation of children with disabilities.
The Monash University research found that between 2009 and 2015, the inclusion of autistic students in mainstream classes dropped from 18.8 per cent to just 3.3 per cent.
During this period, the proportion of students with autism in special schools increased from 37 to 52 per cent.
The research, which was published in the International Journal of Inclusive Education and draws on Australian Bureau of Statistics data, found students with autism were being segregated at much higher rates than students with other disabilities.
The study's author, Dr Kate de Bruin, said a lack of resources, inadequate teacher training and myths about students with a disability being disruptive were fuelling the segregation.
"Kids with disabilities don't have a monopoly on being disruptive," she said.
She criticised One Nation senator Pauline Hanson over her calls to remove children with autism and disabilities from mainstream classes. "This is a really problematic attitude," she said.
Dr de Bruin said the segregation could take place in many forms: students being taught in special classes or units in mainstream schools or students attending special schools.
She said students with disabilities thrived socially and academically when they received a quality education in mainstream schools. She said their peers also benefited.
"If you begin by separating certain groups from society, they never become part of society," she said.
"When kids with disabilities go to regular, inclusive schools they engage in further education more frequently and have more independence in their adult lives with employment, relationships and housing."
Year 10 student Jake, who has autism and attends St James College in Bentleigh East, said his experience at a mainstream school had been positive.
"They try their best to include everyone," he said.
The 16-year-old works with integration aides when he needs extra help with maths and attends regular sessions at school with the I CAN Network, a social enterprise that mentors young people with autism.
During these sessions he's improved his communication, teamwork and public speaking skills.
He said his parents briefly considered sending him to a special school, but settled on the local Catholic school.
"They didn't think there was anything wrong with me," he said. "They just saw that I needed extra help. They wanted me to grow up like a normal child."
Year 10 student Jake and I CAN Network founder Chris VarneyCredit:Jason South
Chris Varney, the founder of I CAN Network, who also has autism, said the segregation was more pronounced in secondary schools.
He said this was because, unlike primary schools, secondary school students had multiple teachers who were often unable to provide the same oversight and support to students with autism.
While he's concerned about the increased exclusion of student with autism, Mr Varney, said his organisation had worked in six special schools and for many families these schools had been an "absolute lifeline".
"They would say their young people would've been trampled on in a mainstream setting," he said.
An Education Department said every child with additional needs had different requirements, strengths and circumstances at home.
"All schools – both mainstream and specialist – work closely with each student and their parents or guardians to ensure that students have the right support systems at place to learn and reach their potential," she said.
More than half of students receiving funding through the department's Program for Students with Disabilities attend mainstream state schools.