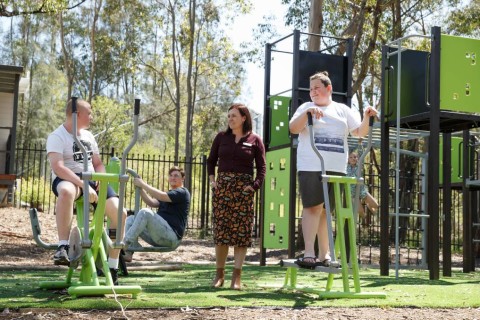 Penelope Green
LARA Cheney was studying early childhood in the late '90s in Newcastle when one of her casual jobs made an impact.
"I was working at Newcastle Temporary Care, at a respite home, supporting children attend social clubs and in their homes, and for a while I had a boy who was about seven stay at my house on a Tuesday night," she recalls.
"He had a few words, loved Sesame Street and fried rice and chicken nuggets. The first times he stayed it was pretty unsettling for him in a new environment. But once he got used to me and I established a routine with all of the things he loved, he settled.
"He was really interesting. When he was happy he was really happy. He would eat his fried rice and chicken nuggets in front of Sesame Street ... and jump up and down and rock back and forward."
Among all the roles that Cheney recalls of her uni days, her work with children on the autism spectrum sticks in her mind.
"They can have such incredible strengths, focused and very detailed interests and then struggle with simple things that others take for granted. They are authentically being themselves and that's refreshing!" she says.
Today, Barnsley-raised Cheney is executive principal of Aspect Hunter School in Thornton and the Aspect Central Coast school. The Hunter school has 168 students, including its satellite classrooms, and the Central Coast about 140.
The two independent campuses are part of not-for-profit group Autism Spectrum Australia's nine schools, which have a total of about 1150 students.
Notwithstanding the holiday period, Cheney is showing Weekender the campus of Aspect Hunter's new high school - the first autism-specific high school in the Hunter.
Opened in January, it currently has 11 students enrolled, with more joining in 2020.
Aspect Hunter School's primary school was founded in Charlestown in 1977 before moving to Shortland Public and Gateshead.
Newcastle developer Hilton Grugeon, whose family has been touched by autism, then rallied support in the community and business circles to fund the building of its Thornton campus in 2012.
Taking shape: Hunter Aspect executive principal Lara Cheney with Newcastle developer Hilton Grugeon in January this year, when work was being completed on the new high school. Picture: Marina Neil
Tucked in an industrial zone, the campus is a veritable oasis: a narrow, bottle brush-lined road leads to the primary school and separate new high school, both circled by gum trees and lawn.
In the main administration office, visitors are greeted by the sign, "We are passionate about people, about being positive and about what's possible."
Cheney exits the office and walks along a path to enter Owens Cottage. The multi-purpose building is named after businessman Richard Owens, who donated the 14ha of land upon which Aspect sits and more recently $170,000 for the cottage build.
Cheney shows the kitchen where pupils learn food technology skills, then a co-ordinator's office, bathrooms, a laundry and computer room before reaching a final door.
"This is my office," she says, noting the lack of personal belongings with a laugh, "but I don't sit here very often."
Cheney radiates calmness but her zest for the school is imbued in her every word.
"We wanted this space to be different to the primary school - for students to share space with staff, to feel more like a high school and to learn skills to support independence," she says.
Further along a path are six "learning centres", or classrooms, each equipped with everything from visual screens to sensory resources including swings and hammocks.
"The swing allows us to provide occupational therapy at the same time as teaching and that student can be regulating their sensory needs while learning," Cheney says. "It's lovely to watch a class ... Students might be using three different chairs but they are all listening and engaged."
Both the primary and high schools have purpose-built playgrounds within view of class rooms.
"It gives students a chance to self-regulate there then come back to the classroom, but we can supervise them as they do," Cheney says.
To be eligible for Hunter Aspect School, students require a diagnosis of autism.
"They are all on the spectrum and have individual needs and sometimes have other diagnosis like ADHD [attention deficit hyperactivity disorder], anxiety disorders," Cheney says.
Each student has an individual plan including four to six goals set by parents and Aspect's specialist teachers in consultation with the child's therapists.
At the new high school, two classrooms remain empty.
"We wanted to be sure that the program was successful first, then build capacity," Cheney says.
With 74 pupils enrolled at campus, Aspect Hunter has a wait list of about 40 students under the age of eight.
Each primary class has six pupils with one teacher and a teacher's aide. In high school, classes have two teachers and one aide.
It costs students $5700 per year to attend Aspect Hunter. It is a registered provider under the National Disability Insurance Scheme, however parents cannot use NDIS funding toward fees.
The school recently won Department of Education approval to teach Year 11 and Year 12 students, including the life-skills Higher School Certificate.
Plans are afoot to build a technology centre (for the delivery of courses including agriculture, work education and industrial technology) and a cafe (for food technology skills and barista training).
When a new student begins at Aspect, establishing and providing routine is key.
"Typically people on the spectrum don't like change, but they need to learn how to cope with change," Cheney says.
Routine provides predictability and supports their communication impairments.
The visual charts and cards used by teachers in classrooms help students to process information and cement that routine.
"Students can then process the information at their own pace, whereas if you say an instruction, once you have it's gone and if they have missed the information they can't participate," Cheney says.
"Once you have established routine and independence, it ensures the students are achieving success - THEN you can start tweaking and introducing things."
Cheney, who has four children and three adult step-children, acknowledges the debate over "inclusive" education and whether it is best practice to segregate children with disabilities from the mainstream.
"Our overall goal is inclusion in a student's local school and we look at that as a measure of success," she says.
"We enroll students with a view that we'll transition them to less specialised education settings and we have that conversation early: what are your plans for the future?"
Aspect has one of the world's largest education programs for children on the spectrum, with its own research team of eight staff in Sydney.
"There is no one-size-fits all for autism, so we look at lots of evidence-informed approaches - what research tells us works, what has been properly researched. Then we draw on different approaches and interventions to tailor an approach for each individual," Cheney says.
There are, she warns, "always lots of crazy things" that claim to cure autism or have positive outcomes: "We won't introduce anything until we are sure of a positive outcome. We know there is no cure for autism, so if anything ever claims that, alarm bells are ringing."
The school sees every part of a student's behaviour, for better and worse, as communication.
"If a student is acting a certain way, our job is to identify what's happening and teach functional skills to replace that inappropriate way of communicating what they need," Cheney says.
"We don't have a traditional approach to discipline. We use positive behaviour approaches, we look at what the student's strengths and interests are, what motivates them, and then use their motivators to engage them in learning."
Cheney describes the results of Aspect's first high school year as remarkable - particularly when considering eight of the initial 14 children were being home-schooled.
Among them is Cam Lavaring, son of NBN newsreader Natasha Beyersdorf and husband Brett Lavaring, Enigma advertising agency's communications director.
Life-changing experience: Natasha Beyersdorf and husband Bret Lavaring, with their son Cam and daughter Tilly, say Hunter Aspect has offered them unique support. Picture: Max Mason-Hubers
They were part of a group of parents who, aware of Aspect's potential, approached Cheney when she was appointed principal in 2017 and pushed for a high school campus.
"It simply wouldn't have happened without Lara's leadership and passion for this group of kids," Beyersdorf says.
"Lara believes in them and that, with the right support, environment and understanding, they are capable of so much."
Beyersdorf recalls Cheney personally assessing Cam, then aged four, before he attended one of Aspect's early intervention programs. [Cheney's first job with Aspect was at its Shortland campus in 2001].
There was a sense of deja vu when Beyersdorf and Lavaring met Cheney to discuss the prospects of Cam attending the new high school. Both were on tenterhooks because Cam was being homeschooled after struggling in mainstream schools, unable to attend more than two hours a day - if at all.
"Lara said, 'You should aim high' and I said 'I am happy to do that, but will that work?' because I was just used to being told 'no'," Beyersdorf says.
"Lara's answer was, 'We can do anything', and that sums it up - the school will do what it takes for a kid. And she was right. We started, and Cam hasn't looked back."
Sitting beside his mum in their Newcastle home, Cam Lavaring says that none of the three high schools he attended were the right fit. The third was the worst, he says, because he was put in a "rest room".
"I liked it at first but then I kind of hated it and I got more frustrated and frustrated and frustrated until one day, I think it was Monday or Tuesday or Wednesday, I got so enraged ... Then mum came and picked me up," he says.
The Year 9 student chats in detail about Star Wars, how his mum taught him that nerds are smart, which teachers he likes, how he might be a movie reviewer one day, and how he's "happy and relaxed" at Aspect.
Cam hugs his mum then leaves the room.
"Fifty times a day he says, "I love you mum," and it's not flippant, it's genuine," Beyersdorf says of their bond.
Cam's attendance at Aspect has been miraculous for him and his family.
"People often ask me how Cam is going, if he loves it, and I say, "It's better than that, it's deeper," says Beyersdorf.
"Yes, he loves getting up and going but he's relaxed about going.
"He just goes to school because that's where he belongs, so for me that calmness is a big win."
Before Aspect, Beyersdorf and her family, including daughter Tilly, "felt like we were abandoned and dropped off in the wilderness, trying to find a path out and we just couldn't."
She says it is easy for "someone like Cam" to become a victim of the low expectations of others: "I have always tried to aim up for him but you can't do it without the right support."
Last term Cam went on his first overnight school camp and the focus in 2020 includes learning practical skills, for example making his lunch in a potential workplace.
Tailored learning: Hunter Aspect School executive principal Lara Cheney at the new high school, with students Thomas Finlay, Callum Unsted and Lachlan Foster-Kerin. Picture: Max Mason-Hubers
"He is so capable - it would be a crime to not let him achieve that potential," says Beyersdorf.
The couple would love their son to be independent. Now he's back at school they allow themselves to think it may be an option.
"Maybe it's possible if he can have a job, have a life and friends independent of us, which would be an outstanding achievement.
"You just aim up - there's not much choice," Beyersdorf says.
In 2018, Autism Spectrum Australia revised its autism prevalence rates from 1 in 100 to an estimated 1 in 70 people in Australia on the autism spectrum. This led to an increase of 40 per cent in prevalence, with about 353,880 people nation-wide formally diagnosed on the spectrum.
The organisation attributes the increase to changes in diagnostic criteria and new national and international research.
Cheney says most people know someone on the spectrum, adding it is "fantastic" there are more options now for families living with autism.
"When I first started with Aspect, parents were desperate to get in, but now there are local schools doing a fantastic job," she says.
Grugeon - whose adult son was undiagnosed as a child with Asperger syndrome, and who has two grandchildren on the autism spectrum - agrees.
"The Aspect school is not the answer to the needs of autistic children, it's one answer for the needs of many autistic children, because one size will never fit all," he says.
Quick to credit Owens, Jeff McCloy and a range of businesses for donating vital funds to allow Aspect to flourish, Grugeon describes its operations as "life-changing".
"All of the staff are special people, I take my hat off to them. To spend time at that school changes your life," he says.
When Grugeon was rallying to build the Thornton primary school in 2012, he was unaware his grandkids would be diagnosed.
"The range of the spectrum of autism is so vast - there are those who are low functioning, very severely disabled, and others who are so high functioning that would you scarcely know they are on the spectrum," he says. "The ones in the middle are the ones more difficult for families because others find it hard to understand that there is a problem".
Grugeon recalls his now adult son crying after school and questioning why his brain 'was not working'. "In fact, he has a brilliant brain - he was a child who couldn't learn at school and was home-schooled in high school then got in to uni where his clever mind was able to excel," he says.
Thomas Finlay, 16, has been to a few local schools but always dipped in and out of Aspect, where his mum Michelle is a teacher's aide and passionate school fundraiser.
Suffering anxiety before he left his last private school,Thomas started at Aspect in Term Two this year. "It's a different schooling experience but I am liking it so far," he reports.
At his last school, when the bell went he had five minutes to get to class.
At Aspect, it's a different pace.
"The other day I was working on the garden and when I finished and asked what time it was it was almost the end of the day," he says. "If the teachers notice you are doing something and you are in your zone, they leave you. It's like they want you to be
happy instead of wanting you to get your best mark."
Happier days: Michelle Finlay and son Thomas Finlay, 16, who is the oldest student at Hunter Aspect high school. Picture: Max Mason-Hubers
Michelle Finlay says the difference in her son is notable.
"He'll talk to us more at home and tell us what he's done, at the other schools he'd be like, 'I don't know'," she says.
"The other week I asked him if he wanted to take the day off and he said no, and I looked at my husband and said, 'Did you ever think you'd hear this?"
With dreams of being a cartoonist, next term Thomas will attend TAFE as part of his educational plan.
The tall, gentle and articulate boy views his autism diagnosis as "just writing on a piece of paper".
"It doesn't stop me from doing anything," he says. "Everyone gets bullied, everyone is different is some sort of way."
Beside him, his classmate Callum Unsted, chimes in.
I see it as a gift," the 13-year-old says. "I get to come here every day, and most don't. Even when you are down and grouchy, a teacher will try and cheer you up."
Callum's mum Susan, a nurse, was desperately looking for support classes for her son, who had been bullied at other schools, when she visited Aspect with a friend.
"Lo and behold it was a perfect fit and we jumped on that boat and sold our soul to get in, I told Lara we'd do whatever was required to get in," she laughs.
Callum says his Aspect teachers "give us hard work to get us to our full potential so we'll have great jobs in the future."
He dreams of working for Lego or as a train driver: "I just want a job that's fun-ish and pays so I can get more Lego."
Susan remains impressed by how much her son is learning at the specialised school, in particular, on outings.
"It's kind of annoying now, I have to have shorter showers because he's aware of climate change," she laughs before adding with obvious pride, "His potential has gone from not being focused to be able to get a job to potentially completing his HSC."
Susan says the pressure on parents with children on the spectrum can be tough.
Small things - from watching birthday party invitations dry up and walking on eggshells during social events to coping with meltdowns and simply feeling no one understands the pressure of living with autism - can add up to feel like a heavy load.
Supported: Callum Unsted and his mum Susan Agland at Hunter Aspect school. Picture: Max Mason-Hubers
"Before coming and joining the school community here, we felt very isolated, misunderstood and judged - for Callum, but for [my family] and me as a mum," she says.
"Now we are engaged, hopeful and happy, we have come 180 degrees."
Lachlan Foster-Kerin's first school experience was a lonely one.
"Everyone said autism was a disease and if they touched me they would get the disease which would 'end the world', which I got upset about," he says.
Bullied continually, he first went to Aspect in Year 5, left, then returned this year.
"It was the time of my life," he says, raising his hands in the air dramatically, making Callum and Thomas laugh.
For Lachlan, the best and most important thing about Aspect is that he is not bullied.
"Before I would get so mad at being picked on, I was always in trouble," he says.
With his favourite subjects being maths and science, he has some ideas of his future.
"I will hopefully be a scientist and eradicate cancer for killing my step-pop," he said.
Noting "a lot of people on the spectrum" gravitate to research roles, Cheney credits her "incredible" staff for their commitment.
"I think one of the biggest differences between us and other schools is we understand that everyone has a tough day sometimes," she says. "There are challenges, and sometimes they can be pretty big, but we don't hold a grudge - the next day is a fresh start, and the kids know that."
Heading back with her youngest daughter, six, to finish some work, Cheney says the school has high expectations for its students, but match that with quality support.
"We want them to be the absolute best they can be," she says.