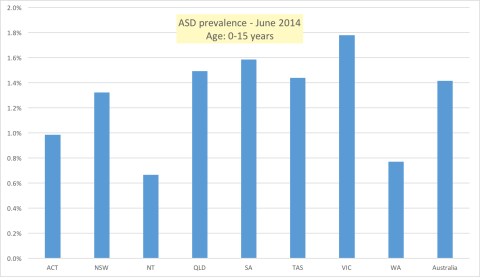 The histogram shows the prevalence calculated from the population of children who receive Carer Allowance for Autistic or Asperger's Disorders (DSM-IV) or Autism Spectrum Disorder (DSM-5) at June 2014 relative to the ABS population numbers for the age group ... on both a national and a state/territory basis. 
There is clear variability in diagnosis rates between states/territories with the Northern Territory, Western Australia and the Australian Capital Territory having notably lower diagnosis rates for autism/ASD, well below the national average.
The pattern reported previously (e.g. by Williams, McDermot, et.al., 2008), of higher prevalence in children aged 6-12 years or 10-14 years, is also observed in these more recent data. In all states/territories, ASD diagnosis rates for children aged 0-4 years are a fraction of the rate in 5-9 year-olds but the data provided does not let us show actual rates. 
The assessments of data from Centrelink Carer Allowance (child) and other national data given by Williams et.al. 2008 said:
Without diagnostic validation, it is not possible to make decisions about which data source is more likely to reflect the true prevalence of ASD or whether a data source is sufficiently reliable to monitor trends over time.
These authors do not note that each child who received Carer Allowance had their Autistic or Asperger's Disorder diagnosis documented by a relevant health or allied health professional. While these confirmations of each child's diagnosis are not the same as having a data collection or survey process reassessing each child, it is a significantly higher diagnosis validation that is used in many other data sources. And epidemiological studies find consistently that prevalence is higher the estimates based on sources like these; so these estimates should be considered "conservative".
A recent study found very little evidence of over-diagnosis of autism/ASD by allied health professional.
Williams, et.al. 2008 also said:
At the current time [2007], the prevalence of ASD in Australian children cannot be estimated accurately from existing data. This study has shown that Centrelink is the most comprehensive single source of national information about the number of individuals seeking funding with a diagnosis of autistic disorder or Asperger disorder. However, these data are limited to only autism or Asperger disorder diagnoses, are more complete for younger children, are not readily available for each State and Territory, and are not designed for research and therefore, may not be appropriate for the identification of individuals for the purpose of diagnostic validation or data linkage.
These data are "the most comprehensive single source of national information about the number of individuals seeking funding with a diagnosis of autistic disorder or Asperger disorder". The data do not include children who are diagnosed with PDD-NOS, however since 2013 they include children diagnosed with DSM-5 ASD. 
As well as the variation in basic diagnosis rates, the states/territories vary considerably in the pattern of Autistic vs Asperger's Disorder. The diagnosis rate of Asperger's Disorder in Western Australia was especially low.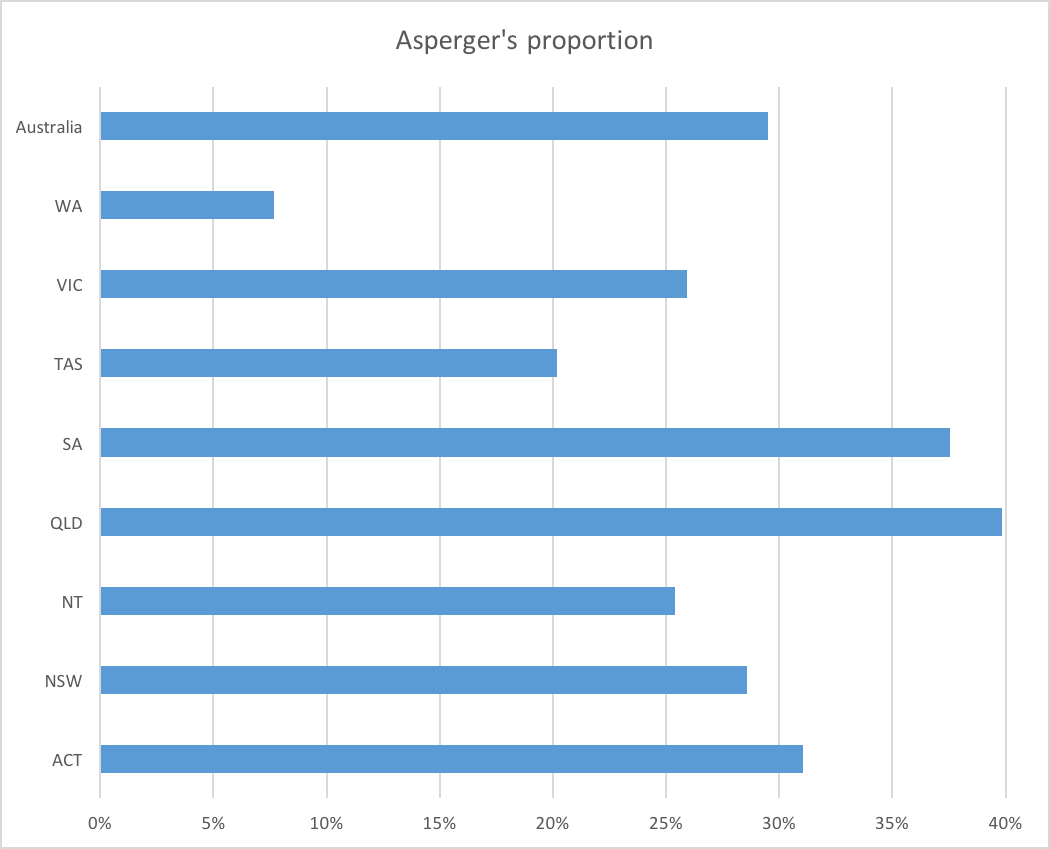 A4 has collected and reported on these and other data since over the years (see APAC 2009, ASfAR 2012, APAC 2013 and data for 2015). The presentation given at APAC 2009 provides very detailed state-by-state breakdowns. While these detailed analyses have not been re-presented since then, the data suggests that the same patterns remain in the available data. 
References
Williams, K., MacDermott, S., Ridley, G., Glasson, E. J., Wray, J.A., The prevalence of autism in Australia. Can it be established from existing data? Journal of Paediatrics and Child Health 44 (2008) 504–510.
See also MacDermott, S., Williams, K., Ridley, G., Glasson, E. J., Wray, J.A., The prevalence of autism in Australia. Can it be established from existing data? A report prepared for Australian Advisory Board on Autism Spectrum Disorders (Sep 2006), available from http://www.autismadvisoryboard.org.au/uploads/Autism%20Prevalence%20Stu…;