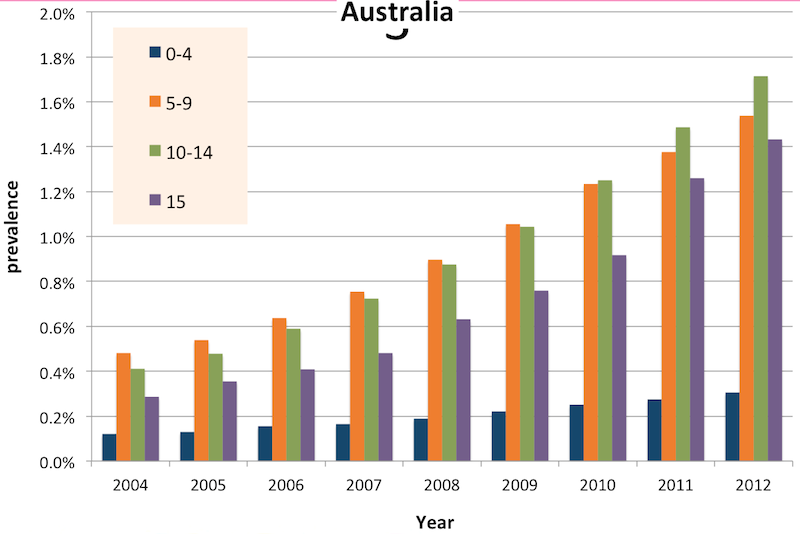 Bob Buckley's presentation at the Asia Pacific Autism Conference 2013 (APAC'13), entitled Data describing Autism Spectrum Disorder in Australia: information relating to diagnoses, prevalence, service access and outcomes, continues a series of presentations describing data, mainly from government sources, that indicate the number of people in Australia diagnosed with Autism Spectrum Disorder (ASD) and some relevant outcome measures. The presentation shows:
the level and age distribution of Australians with severe or profound disability of any type (that is, those most likely to need substantial support from DisabilityCare Australia's implementation of a national disability insurance scheme – NDIS).
The growth and age distribution of people with autism based on the Australian Bureau of Statistics (ABS) Survey of Disability Ageing and Carers series.
By June 2012, there were 53,428 Australian children aged under 16 years diagnosed with either Autistic or Asperger's Disorder, signed off by an allied health professional and registered with Centrelink for Carer Allowance (note: this does not include children diagnosed with PDD-NOS). These data indicate ASD prevalence in 2012 had increased to at least 1.63% (or 1 in 61.5) of school-age children.
Similar growth is seen in the number of children registered and receiving early intervention through the Commonwealth Government's Helping Children with Autism early intervention package.
While relatively few people with ASD (about 20% or 1 in 5) received any service at all through the National Disability Agreement, substantial growth in the number of people receiving services can be seen in the data.
These data show clearly that:
Government records/data provide good/useful sources of basic data about people with ASD;
most of the growth in ASD diagnosis comes from people with severe and profound disability — these data show the increase is not "mostly due to diagnosis of milder ASD cases" … as some people claim;
ASD is a substantial and distinct type of disability … that needs and outcomes for people with ASD differ substantially from those of PwD more generally;
while the number of Australians with severe or profound disability is relatively stable, the number of people diagnosed with ASD has at least doubled every 5 years over the last decade — in 2009, around 20% of Australians with severe or profound aged 5-24 years were diagnosed with autism* and the proportion is set to increase substantially while DisabilityCare Australia rolls out its NDIS**;
Services and supports for people with ASD need substantial improvement if the Government and the community expect better and more equitable outcomes; and
Estimates of ASD prevalence in Australia is similar to that observed in most other countries. The variability in diagnosis number between Australian states is much less than the variability between states observed in the USA.
You can download the presentation here - APAC 13 Presentation (6.43Mb PDF). Other presentations and publications about autism/ASD prevalence in Australia can be found at:
---
* Attendees at APAC'13 heard that those planning the NDIS launch in SA in 2013 expect to fund disability services for 1565 participants. They also heard that there are 1510 people diagnosed with autism (mostly severe and profound) in the same age range who are receiving disability services. If most people with ASD are eligible for DCA/NDIS funding, then either autism/ASD will be an extremely high proportion of those eligible for DCA/NDIS or the number of people eligible for DCA/NDIS support is understated substantially.
** A4 is concerned that, despite being a substantial component of those eligible to benefit from the NDIS, people affected by severe and profound disability due to autism/ASD (including both people with ASD and their family carers many of whom spend the vast majority of their lives dominated by autism) have been excluded from discussion and development of DCA's NDIS scheme. Since coming to office in 2007, the Minister for Disability, the Hon. Jenny Macklin MP, has refused repeatedly to support a peak body for (or including) people whose lives are severely or profoundly affected by autism/ASD ... and none of the existing peak bodies for disability represents this group ... thereby effectively excluding and denying a voice to people who are severely of profoundly affected by autism.