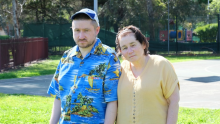 Neelima Choahan
When Victoria opens up later this month, Janine Terry is scared her only son will be locked up at home forever. 
For the past five months, the 62-year-old has been desperate trying to get him vaccinated. 
Tim, 39, has severe autism, osteoporosis and epilepsy. He is also terrified of needles. 
"In May … I asked our family doctor about Tim being vaccinated," Ms Terry said.