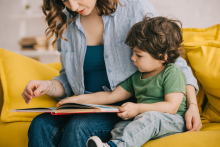 Andrew Whitehouse, The University of Western Australia; Jonathan Green, University of Manchester, and Kristelle Hudry, La Trobe University
A therapy for infants showing early signs of autism reduces the chance of the child meeting diagnostic criteria for autism at three years of age. That's according to our new research, published today in the journal JAMA Pediatrics.
Therapy for children with autism often begins after receiving a diagnosis, which usually doesn't occur until after the child turns two.