A "quick and dirty" review of the $35bn-a-year National Disability ­Insurance Scheme will not ­address its longstanding problems in time to meet national cabinet's hard cost-control targets set for three years from now, advocates have warned, signalling a fresh battle over its future.
Amid a growing backlash from the disability community about the review's proposed NDIS ­reforms, advocates say children with autism are being "thrown under the bus" for the scheme's ­financial sustainability problems, fearing they may be targeted for cuts to services.
Occupational therapists say changes mooted by the review to how NDIS plans are devised would "reduce choice and control" for scheme participants. And a promise that people with ­disability would "co-design" the scheme's future was not being met, says a key sector voice.
With mounting pressure on the Albanese government to rein in spending on the NDIS to meet national cabinet's 8 per cent cost growth target by 2026, much is riding on the outcome of the independent review being conducted by professor Bruce Bonyhady and former senior public servant Lisa Paul, to be handed to NDIS ­Minister Bill Shorten at the end of October.
A series of speeches by Professor Bonyhady in the past ­fortnight flagging likely recommendations – including that state and local government provide more "foundational" support for people with disability outside the NDIS, for instance support for children with autism and developmental delay in mainstream school and childcare settings – has left advocates uneasy about some of the detail.
People With Disability Australia president Nicole Lee said that, set against the spectre of the cost targets, many in the disability ­sector are concerned the review will hand down recommendations difficult to deliver in practice, especially around providing more supports outside the NDIS.
NDIS participants 'have a right' to quality and safe services: Bill Shorten
NDIS Minister Bill Shorten says the industrial relations issues concerning people on care work platforms such as NDIS "are important". "NDIS participants have a right to quality services and to safe services," Mr Shorten said… during Question Time on Thursday. "We need a fit-for-purpose industrial relations system to help the More
READ MORE: Money-pit mentality must stop | A lot at stake in Shorten's NDIS reform plan | Autism numbers crucial in cutbacks
"Our big fear is that the government will be handed a quick and dirty solution to a longstanding and difficult issue," Ms Lee said. "This isn't a quick fix. It's no secret that the states have failed in providing support for people with disability outside the NDIS. But changing that quickly will be a huge challenge because there simply isn't a workforce that can gear up to do it.
"The NDIS can't change until that is built up, but there is that pressure of a cost-growth target by 2026, which isn't that far away. You can't unload us into a system that's not there."
Nick Avery, chief executive of South West Autism Network, a West Australian organisation advocating for people with autism, said it remained unclear how the review's recommendation for more support to be given to ­autistic children and others in mainstream settings would be ­delivered.
"We are waiting for that detail. There is already a massive shortage of allied health services, especially in remote and regional areas," Ms Avery said. "It would take several years to build the ­capacity to get mainstream services in place to support people with disability outside the scheme."
Occupational Therapy Australia president Carol McKinstry agreed workforce shortages were a problem both inside and outside the NDIS.
"I've never seen workforce shortages in the allied health space this acute," Professor McKinstry said.
"The review is saying more will be needed in settings outside the NDIS to take pressure off the scheme. Managing this, ­especially in regional and remote areas, will be a huge challenge."
The NDIS is under the microscope over rising costs and poor participant experience. The scheme currently has 610,000 participants with the average ­annual plan payment more than $60,000.
The 2022-23 cost of $35bn a year has been projected to rise to $90bn in a decade.
Last October Mr Shorten ­appointed Professor Bonyhady and Ms Paul to review the scheme. In April, the NDIS Minister said the scheme "had lost its way".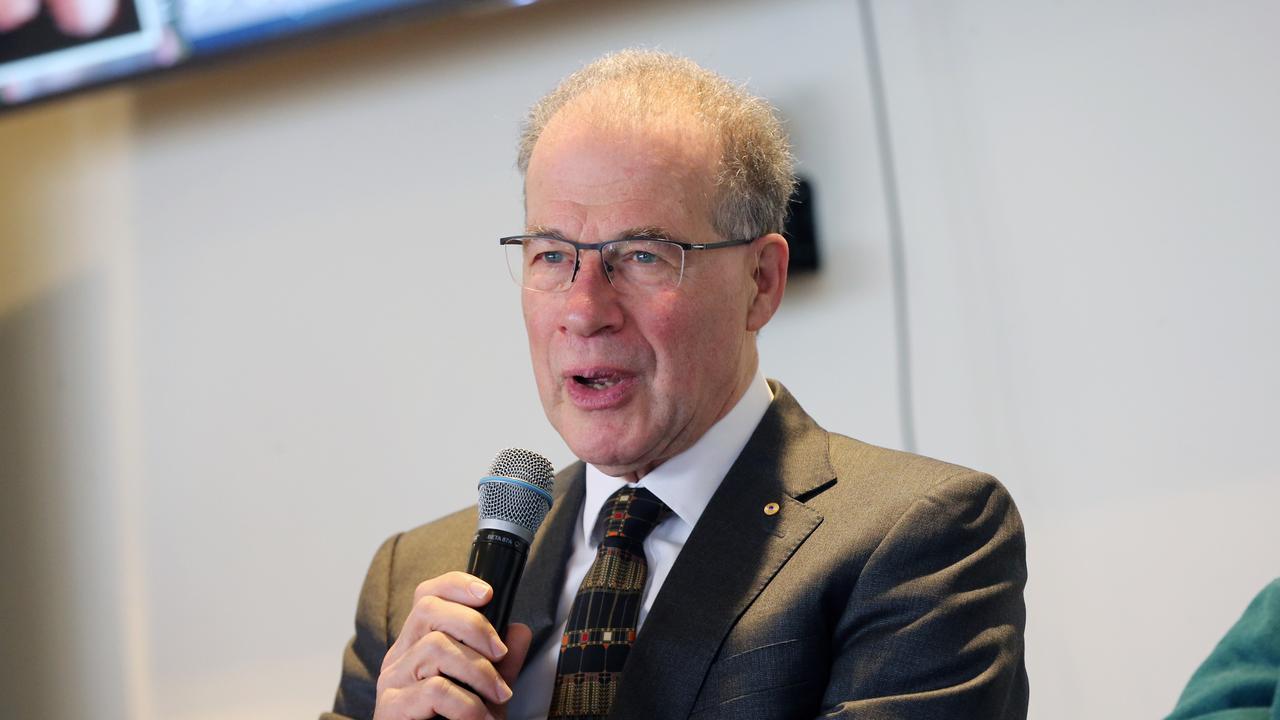 Reviewer Bruce Bonyhady at an NDIS community forum at East Geelong, Victoria. Picture: Alan Barber
National cabinet in April ­reacted to recent annual NDIS cost growth of 14 per cent in announcing a new cost-growth target of 8 per cent from 2026. Treasurer Jim Chalmers has flagged scheme costs among his biggest budgetary concerns.
The fastest-growing NDIS ­cohort is children with autism and developmental delay. More than half of the scheme's participants are aged under 18, and 75 per cent have a primary ­diagnosis of autism or developmental delay.
Professor Bonyhady says this is an urgent reform priority, and it is better in many cases that these children receive supports outside the NDIS in the places where they spend their day: schools, maternal and child care and early learning centres.
Ms Lee warned that people with autism were being made into scapegoats by some for the scheme's problems.
"I do feel we are being thrown under the bus," Ms Lee said. "There's already a huge stigma and discrimination against ­people with mental ill health and psychosocial disability without that blame. People don't choose their psychosocial disability and children don't choose autism. It's a harmful and hurtful argument."
Ms Avery said there was some angst among autistic people and families that they would be targeted for service cuts in the future design of the scheme.
"We are feeling somewhat targeted by the current rhetoric that autism is blowing out the NDIS budget," Ms Avery said.
"But I'm seeing NDIS plans for children with autism that provide around $4000 a year, when it costs more than $5000 a year to provide speech or occupational therapy for one hour a fortnight."
George Taleporos, independent chair of disability advocacy group Every Australian Counts, said he agreed that early childhood supports should be provided by mainstream services, something his organisation had supported for years. "(But) any withdrawal of NDIS services could lead to children falling through the cracks," he said.
Dr Taleporos said he was concerned about a lack of consultation with the sector on the review's recent reform proposals.
"The government promised to work side by side with us to co-­design the future of the NDIS," he said. "But the NDIS review process has not lived up to this promise. None of these proposals have been tested with our community and we deserve to be involved in the decisions that affect our lives."
Professor McKinstry said another reform flagged by the ­review, to move from NDIS funding based on fee for service to a model based on participant outcomes was concerning.
"We're concerned that changing the system from fee-for-service therapy arrangements to funding based on outcomes would reduce choice and control for participants," Professor McKinstry said.
"At the moment participants have some say, and removing this would be a real step back. OTs offer more than simply a rehabilitation approach. We help a participant determine both their short and long-term needs and goals. It's individualised at the moment, and it's more complex than saying here's a bucket of money and that's it."
from https://www.theaustralian.com.au/nation/politics/quick-and-dirty-ndis-review-faces-backlash-from-disability-advocates/news-story/d16b1b6d2eeac63fb596ea2d8db4d032