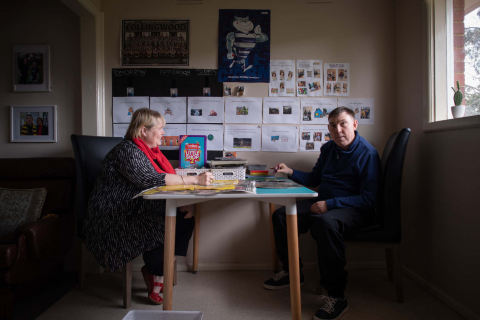 Joel Magarey
Andy Southam was a "sparky, chatty, funny" 24-year-old, his sister Judith McDonald says, when he left the family residence to enter a group home for men with intellectual disability in 1993.
"Back then," she says, "he was interested in anything and everything."
But for Mr Southam, who has autism as well as intellectual disability, living in a small house with four men with significant disabilities triggered anxiety, mood changes and "controlling" behaviours, such as wanting to be the only person sitting at the dinner table.
Added to that, says Mrs McDonald, there was the cigarette burns she found on his thigh, physical aggression from other residents and staff, casual workers who didn't know her brother's needs and a powerfully sedating antipsychotic drug – administered to chemically restrain him – that began negatively affecting his movement and already limited speech.
New figures show thousands of Australians with disabilities are, like Mr Southam was, regularly being subjected to controversial restraint practices, with the NDIS Quality and Safeguards Commission revealing more than 300,000 unauthorised restraints occurred in 2019-20.
More than half of those incidents involved chemical restraint: the often-harmful use of psychotropic medication, frequently prescribed off-label, to sedate or otherwise control people with disabilities.
Clinical guidelines warn the use of chemical restraint lacks good evidence and has long been linked by research to serious adverse effects, including metabolic diseases, cardiovascular risk and death.
Mrs McDonald said it was the rushed morning routines when, groggy from the effects of the previous night's medication and lacking the "processing time" his disabilities required, Mr Southam was tipped over the edge.
His distress spiking suddenly, he began refusing to leave the house, lashing out at other residents and entering their bedrooms and pulling their hair.
A lock went onto the door of his bedroom, and he'd be regularly secluded inside it.
He started overturning furniture.
Visits to a psychiatrist were organised, where the provider sent their staff along to do the talking, and the list of his psychotropic medications was expanded: two sedating antipsychotics, Valium "as needed" and two mood stabilisers.
"They didn't look at what supports and adaptations he needed; it was all about control and restraint, particularly the ever-increasing chemical restraints," Mrs McDonald says.
Then, a turnaround. In a 2017 legal case, Mr Southam's support provider was found to have "not…made reasonable attempts" to manage his "challenging behaviour".
"This includes the communication assessment that was last completed in 1990s," the finding of the Victorian Civil and Administrative Tribunal noted.
from https://www.theage.com.au/national/andy-changed-after-the-use-of-a-contr...