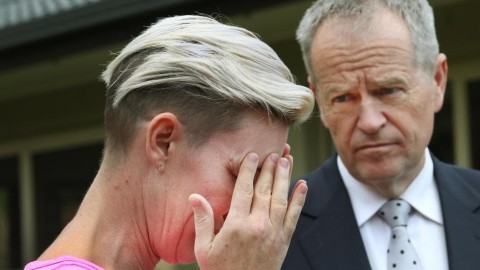 SHANNON Manning wakes at 3am every day to care for her two children with disabilities.
Prone to regular attacks from her kids' meltdowns, she has nursed broken bones and bruises in order to provide for the children she loves more than life itself.
Her non-verbal daughter Meadow, 7, suffers from severe autism and epilepsy and is in a wheelchair. Her boy Madden, 6, has Cantu syndrome.
As the sole carer she is lucky if she sleeps for four hours a night; her only assistance the presence of a carer for six hours each weekday.
Shannon Manning talks about the struggle raising her disabled children and grappling with the NDIS to Labor Shadow Minister Bill Shorten at her Maudsland home. Picture: Glenn Hampson.
The toll has become so great she has had metal rods inserted in her spine because of the constant lifting. She now suffers a degenerative back injury and has been told she is facing life in a wheelchair if the workload continues.
For more than a year Ms Manning, who weighs about 50kg, has been asking for either a lighter wheelchair or hoist to help her care for her children. She has written and called politicians, including new National Disability Insurance Scheme (NDIS) Minister Stuart Robert. Despite repeated calls to the Fadden MP, she says she is still awaiting a reply.
Shannon Manning, in tears, with her six-year-old son Madden and Bill Shorten. Picture: Glenn Hampson.
SUBSCRIBE TO THE BULLETIN: $5 A MONTH FOR THE FIRST THREE MONTHS
The situation has become so bad Ms Manning said she has considered "relinquishing" her severely disabled daughter into state care.
"I'm at the point where my neck has literally broken, I can't pick my kids up, I can't push the trolley – I am getting to the point I can't be their mother," Ms Manning said.
"All I have done is just tried and tried, again and again and every time I walk in to speak to someone in the NDIS, I need to explain myself to someone new every single time.
"It is disgusting that parents need to consider putting their children that they love into the system because the government can't help them with the need.
"I have given them a lifetime of costs if I relinquish them into state care, this is a mum that loves her child, hasn't done anything wrong to her child or for her child."
Shannon Manning with her severely autistic daughter Meadow, 7. Picture: Glenn Hampson.
She has repeatedly sought $3500 from the NDIS for a lifting hoist or lighter wheelchair.
Despite letters from her doctors, she has been rejected by the NDIS because the additions are for her, not her daughter.
"They told me at the time they did not know a six-year-old who lifted their own wheelchair," she said through tears.
"What they don't understand is every time they reject me they keep chipping me away, as a failure who can't give her children what she needs.
"We love her, she is the best kid but we need to keep her safe, that is what mums do and governments should do."
Stuart Robert did not answer the Bulletin's questions on whether he would visit the desperate mother.
A spokeswoman for the Minister said: "Mr Robert understands that this is a highly complex and sensitive case, and has full assurance that the NDIA are working with Ms Manning in relation to the reasonable and necessary disability supports required for her children."
NDIS shadow minister Bill Shorten met with the family today and said the situation was "a giant hoax on Australia".
Shannon Manning hugs her son Madden at her Maudsland home. Picture Glenn Hampson
"Shannon's story is too common in Australia, there are thousands of families – they don't want the system to look after their kids, they want to look after their kids.
"In the big scheme of things these items are small prices but the value is enormous to the family.
"Long term it is a much better solution for our society."
Mr Shorten said families needed consistency with their case workers, and more space between reviews.
"Parents are sick of explaining the story of their child to a stranger ever three months," Mr Shorten said.
"A hoist is cheaper than someone's spine, than someone's mental anguish — and we can do this, the county is rich enough to pay for this
"This is a straight forward cost benefit equation.
"Is it really that hard to approve a wheelchair and a lifting hoist so this mum doesn't injure herself?"
from https://www.goldcoastbulletin.com.au/su…
see also:
https://www.abc.net.au/news/2019-08-16/… or http://a4.org.au/node/2090
https://www.9news.com.au/videos/gold-co…
https://www.9news.com.au/national/queen…