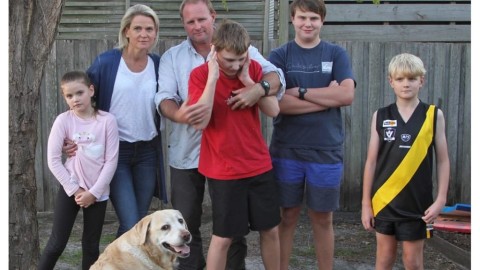 Benjamin Millar
The peak body for people on the autism spectrum and their families* has criticised a TV program for airing confronting footage of an autistic boy acting violently towards his mother.
Channel Nine's 60 Minutes screened a report on Sunday night featuring Max Whelan, a 12-year-old boy with severe non-verbal autism who lives with his family at Mt Martha on the Mornington Peninsula.
The report featured confronting footage of Max acting violently towards his mother Caroline, alongside an interview with his three young siblings, with claims the home had become "a place of chaos and violence".
The family had been attempting to crowdfund $80,000 to convert their home into a "personalised care facility" for Max, as well as employing specialist carers.
The money would be used to help the family relocate to a nearby rental home for "safety, peace of mind and normality".
The fundraiser, via GoFundMe, had just reached its $80,000 goal at the time of Sunday night's screening, but raced to more than $90,000 within hours of the story going to air.
Max's father Sean Whelan told 60 Minutes that their home had become unsafe to live in for the family.
"It's gotten to a point that's just ridiculous. We just can't continue like this."
But peak autism organisation Amaze said although it didn't wish to diminish the family's experience, it was concerned the segment was reporting autism in a negative light, using demeaning language and taking away Max's dignity.
"We strongly believe that we need to hear the stories of autistic people with high and complex support needs, so that we can advocate strongly to ensure that they are getting the services and supports they need," it stated on social media.
"However, this should not be done by showing the autistic person in an undignified manner.
"The media need to have greater respect for autistic people's dignity when reporting about autism, and also not perpetuate common myths about autism."
Reservations about the report were also shared by Asperger Services Australia, the country's largest Asperger support group.
"We concur with Amaze's concerns, and Asperger Services Australia will always advocate for people on the autism spectrum and their families and support them to achieve their potential."
Some supporters of people living with autism saw the screening as a chance to highlight the lack of support services available to families in the same situation.
One mother posted on 60 Minutes' Facebook page that the report showed some families were going through immense psychological stress, and dealing with enormous challenges.
"They don't want to relinquish their son, but are trapped between their love and support for him and their other children's mental health and safety."
But others criticised 60 Minutes for stigmatising autism and trampling Max's right to privacy, as well as featuring an interview in which Max's six-year-old sister described her older brother as "scary and dangerous".
One woman posted that her own daughter has had her own violent outbursts, yet believed parents should respects their child's right to privacy.
"As parents we should not flaunt our children's difficulties without full educated agreement from them."
from https://www.smh.com.au/entertainment/tv…
* Amaze, formerly Autism Victoria, is only a "peak body" for Victoria, Australia.