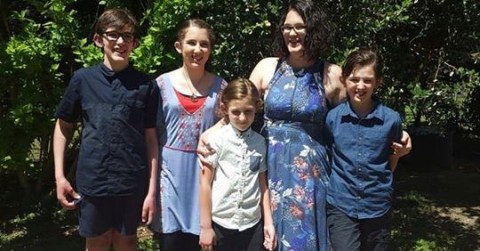 Note: we apologise that technical issues mean we cannot replicate this story properly on our website. The full story, showing many victims, is available from the source site: http://www.abc.net.au/news/2018-06-23/when-carers-kill/9894514
One person with disabilities is killed by their carer almost every three months in Australia, but these acts of domestic violence are often excused by the media and judiciary. The focus is too often on the killer. Here, we recognise the victims.
In the wake of the worst mass shooting in Australia since Port Arthur, the public was as hungry for answers as the police.
A suspected murder-suicide on a hobby farm near Margaret River in Western Australia on Friday, May 11, left seven people dead and shocked the nation.
But it was not long before grief turned to sympathy for the alleged culprit.
Peter Miles is widely believed to have killed six people, including four children with autism, before taking his own life.
An investigation is ongoing and, because Peter Miles is dead, we may never know the full story.
But soon after the news broke, Miles was described in the media as a loving grandfather, a "good bloke" who wanted the best for his grandchildren and worried about their future.
Around the same time, reports emerged that all four grandchildren had autism — and in some cases this was repeated.
"I mean, there was one article where that was mentioned five times," said Nina Funnell, an anti domestic violence advocate.
She told Background Briefing emphasising the children had autism was shorthand for a lot more.
"Now, when you place undue emphasis on the fact the victims had a disability, it leaves the reader with the impression that the disability was somehow a causative trigger to the violence that has subsequently followed," she said.
"Readers walk away thinking, 'Well, this is the fault of autism'."
Samantha Connor, a disability advocate from WA, agreed.
"There's this constant narrative in media when we're murdered by parents and by family members," she said.
"People talk about those parents and family members as being devoted carers, and the blame is firmly placed on the disabled person.
"There are assumptions that are leapt to about the burden, and lack of services, and those sort of issues aren't necessarily the case when there is no evidence about that."
When something terrible happens, it is normal to wonder why, and to seek reasons.
But there is a big difference between asking why and excusing a killer.
When people with disabilities are killed by their carer, advocates said the media all too often cites the carer's struggles, focusing on the burden that the victim placed on the killer — and accepting disability as a reason for murder.
Background Briefing has now collated media coverage, court judgements, and independent reports to determine how often in the past 15 years people with disabilities have been killed by an intimate carer.
An intimate carer is a family member or friend with responsibilities of care. The program has excluded paid disability support workers.
Background Briefing defines a person with a disability in accordance with the Australian Disability Discrimination Act.
The results from the analysis are shocking: one person with disabilities is killed by their carer almost every three months in Australia.
We do not have access to information troves like police databases, so we suspect this is almost certainly an underestimate.
Another problem with sympathising with a killer at length is that victims remain names only — they vanish from their own story.
Here, Background Briefing has sought to put faces to the names, and where possible include details of the lives of people killed by their carers.
Accepting disability as a reason for murder is not just an Australian problem.
In the US, journalist and academic David Perry conducted a study looking at four years of US media coverage of hundreds of cases.
He found there were certain phrases that kept cropping up, whatever the case, whatever the circumstances.
"'Mercy killing', 'suffering' for sure, 'put out of her misery'," he said.
"When you see neighbours quoted as, 'Oh, they were so in love' or, 'She was such a doting parent'. 'Burden' would be right up there as a phrase. 'Act of love'. When we talk about, 'The love that a murderer felt for their murder victim'."
Trawl through Australian coverage of homicides where a carer has killed a person with disabilities, and David Perry's checklist will resonate.
To Perry, the biggest problem is not what reportage includes, but what it almost always leaves out.
"The big thing that I want the listeners to identify is the absence of the voices of people with disabilities," he said.
"So we really have a very fundamental problem. People are being murdered and no-one is talking to people with disability.
"I don't think there's any other kind of marginalised community in which, if there were a lot of murders, at least one reporter wouldn't reach out to — whether it's a community of colour, or an LGBT community.
"There are lots of communities that experience violence but at least they get a reaction quote, they get some kind of chance to weigh in."
Violence towards people with disabilities is a confronting topic, shrouded in mystery.
According to a recent Senate report, having a disability means you are more likely to suffer violence, especially if you are a woman, whether you live in a residential care setting or the family home.
And if you have an intellectual disability, a study by the National Police Research Unit found you are 10 times more likely to have experienced abuse than an abled person.
But across all disabilities and genders, we do not know how often carers are violent towards people with disabilities because no-one collects the statistics — and the Federal Government has resisted strong calls for a royal commission.
Calling out poor media coverage of the killing of people with disabilities is not just about being politically correct.
David Perry warns there is a risk of contagion — that accepting disability as a reason for murder could lead to more deaths.
"The next potential murderer reads that, they think about it as a mercy killing, they're more likely to commit violence themselves," he said.
"We know about suicide contagion. We're learning unfortunately in the States about a mass-murder contagion.
''There is a real sense by the people who study media that the ways we talk about these things does have an impact."
David Perry said no-one in the US has researched whether the tendency to excuse carers who kill extends to the courtroom.
But in Australia, there was a paper published last year.
In it, lawyer Frankie Sullivan examined all the cases they could find from the past 15 years where a carer was sentenced for the domestic homicide or attempted homicide of a disabled person.
Mr Sullivan analysed the language used in the sentencing remarks. Some familiar trends emerged: disability was invariably discussed as a very negative thing.
"So really medicalised language, language such as 'wheelchair bound' or 'this person suffered this condition'," Mr Sullivan said.
"People with disability were assumed to have a low quality of life, so to not enjoy their lives, or to be miserable, or to be suffering, or to be really unhappy with their bodies or their minds or their existence."
It would be unthinkable in other domestic violence cases, but quite often judges were prepared to accept evidence the victim had a low quality of life, which came from the killer themselves.
"Often, you know, the accused or the offender themselves would be saying, 'This person was unhappy with x y z' or 'This person really struggled with this and that' being sort of taken as a definitive statement of their lived experience, without consulting or having any consideration of whether or not that's accurate," Mr Sullivan said.
In these sentencing remarks, killing appeared to be seen as an extension of care. The killers were perceived to have "suffered enough" through their years of devoted care for their victim.
But, as Mr Sullivan wrote, when there's domestic violence towards people without a disability, social stressors are not accepted either by judges or by society in general as a mitigating factor.
And when it comes to the persistent narrative of the "devoted carer", disability advocate Samantha Connor said citing a killer's love for their victim doesn't cut it.
"When people say that a mother was a devoted carer or a parent or another family member was a devoted carer, our response is invariably that devoted carers do not kill their children," she said.
"Because the worst thing that can happen to someone is that they die.
"It doesn't matter how much you love that person. They're just as dead."
If you or someone you know is thinking about suicide, you can call Lifeline on 13 11 14, Kids Helpline on 1800 551 800, Mensline Australia on 1300 789 978 or the Suicide Call Back Service 1300 659 467. To find a disability advocacy service in your area visit the Disability Advocacy Finder website.
from http://www.abc.net.au/news/2018-06-23/when-carers-kill/9894514