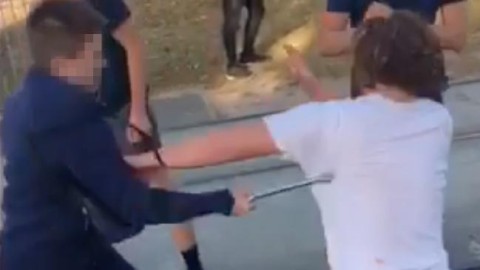 The mother of a boy with autism who was assaulted with spanners outside a Melbourne school wants police to charge his teenage attackers.
Quinn Lahiff-Jenkins, 14, was attacked outside Northcote High School, in the city's inner-north, on Tuesday afternoon.
They had armed themselves with spanners and turned on another boy when he tried to help the victim.
Carmen Lahiff-Jenkins said the teenagers targeted her son after he stood up for a friend who was being bullied.
She said they told her son, who does not attend Northcote High School, to meet outside the campus to "have a chat".
Because of his autism, he did not realise the danger he faced and was shocked by what happened next, Ms Lahiff-Jenkins said.
"They were putting things in inverted commas like, come down and we'll just have a 'chat'," she said.
"My older son had to explain to him, you know, if they put it in inverted commas that means something else and he was really surprised by that."
The boy, who attends Fitzroy High School, was taken to hospital with bruising to his face and legs.
Victoria Police says an investigation is underway.
Ms Lahiff-Jenkins said the attack was filmed by a friend of her son, who was not able to intervene but thought the video might help police.
"I know many families of autistic kids — this is their worst potential nightmare," she said.
"For us, it's played out and I can tell you it's very distressing because it's what we always worry about."
'Hyper-masculine, macho culture'
The State Government said "new security arrangements" were already being implemented following other incidents at schools in the past year.
Premier Daniel Andrews expressed confidence the latest case would be properly investigated.
"The school has taken this matter very seriously, as they should," he said.
"As bad as this incident was, as difficult as it is to comprehend, it is one of a very small number of incidents that we see across our schools."
Ms Lahiff-Jenkins is hopeful police will lay charges but said society had a role to play in teaching boys violence was not acceptable.
"I definitely would like to see police lay charges," she said.
"But I also have some empathy for the parents of these kids. We don't always know what our kids are doing out in the community.
"We live in a hyper-masculine, macho kind of culture where we teach boys that this is the way they are supposed to behave."
Her son is sore but on the mend, she said.
"I think he's pretty shocked, he's learned a lot about people is what he said, and he's really surprised that they attacked him — he just never assumed any one would actually do that.
"I cannot believe what I saw and how I saw kids behaving."
Aggressive behaviour 'relatively rare' at Victorian schools
Northcote Principal Susan Harrap said she was meeting with the families of the students involved, and appropriate disciplinary measures would be taken.
"I'll be speaking to students about the incident today to make clear that this type of behaviour is unacceptable and to make sure anyone who is upset gets support," she said.
Ms Harrap said the school was responsible for reporting the incident to police.
"We'll continue to do whatever we can to help them with their investigation."
The Education Department insists such violence is not common.
"Incidents of violence and aggressive behaviour remain relatively rare in Victoria's more than 1,500 government schools."
from http://www.abc.net.au/news/2018-05-10/spanner-attack-teen-with-autism-no...
---
Video show autistic boy kicked and beaten with wrenches
The mother of a teenage autistic boy viciously bashed outside a Melbourne high school said her son has come out of the ordeal stronger than ever.
Fourteen-year-old Quinn Lahiff-Jenkins was bashed by a group of teenage boys outside Northcote High School on Tuesday with metal wrenches after confronting them about bullying his friend.
His mother, Carmen Lahiff-Jenkins, said she worries about her son's mental health after the incident but has been surprised about how philosophical he has been about the assault.
"He's compartmentalised it. Of course, I'm worried about his mental health ... but he's been quite philosophical about it, he's very justice-driven," she said.
"He thinks he did the right thing by telling these boys to stop bullying his friend."
Further details of the assault have been unveiled this morning. Quinn had confronted the boys who had been bullying his friend on social media.
They invited them to the school where they proceeded to attack him.
Ms Lahiff-Jenkins told The Australian she wants to see the boys charged but she also feels concerned for them.
"I do feel concerned about these boys ... we need to understand why young people would do something like this," she said.
"And I feel very concerned about their parents, I can't imagine what they are going through."
Ms Lahiff-Jenkins said her son wants the assault to shine a light on both bullying and continued discrimination against autistic people.
Quinn's mother is currently talking with community advocates and plans to co-host a community meeting in Northcote about bullying.
"Some people think this is just schoolyard bullying ... I just can't accept that," Ms Lahiff-Jenkins said.
"We let our kids act like this, absorb this over-macho culture, it will be the harbinger of our doom.
"Our institutions are letting us down. Schools don't have the funding to deal with issues like mental health in our young boys."
The mother-son duo also want Australians to talk more about how autistic people are treated in this country. Ms Lahiff-Jenkins fears that acceptance of people with autism is going backwards.
"Autistic people are the third biggest minority group in the world ... the community has to start accepting them in their schools and workplaces," she said.
"There is a very long way to go when it comes to acceptance, I fear it's going backwards."
Autistic boy kicked, beaten with wrenches
An autistic boy has been brutally beaten up with wrenches outside a high school in Melbourne's north.
Disturbing video footage ­obtained by the Herald Sun yesterday shows 14-year-old Quinn Lahiff-Jenkins being attacked by five other boys outside Northcote High School on Tuesday.
He was pinned to the ground and bashed as motorists drove by.
Quinn was grabbed off his bike and kicked in the head by one youth, while another hit his legs with a wrench. When he got to his feet, a boy grabbed his head again and kneed him.
The footage showed the boys subsequently attacking him with wrenches and chasing him towards traffic. They pinned him down again and kicked him in the head.
One boy in a grey top tried to stop the attack but was set upon by one of the others with a wrench. "You got a problem? You got a problem?" the wrench-wielding teen reportedly said to the boy who tried to intervene.
The Herald Sun reports Quinn had confronted the bullies because they had attacked him earlier with homophobic slurs and threats against his mother.
He was still in Melbourne's Austin Hospital last night.
His mother, Carmen Lahiff-Jenkins, said he was still terrified.
She learnt of the attack after Quinn called her from an ­ambu­lance.
"There are marks on his body but mental health is the biggest issue," she told the Herald Sun.
Earlier, Ms Lahiff-Jenkins tweeted: "It's so hard to be a teenage boy, let alone grapple with the social weight of autism without being targeted by bullies."
Quinn had been in the mainstream school system for only a year, having previously attended special schools. It is believed he had started to make friends but was being bullied.
Ms Lahiff-Jenkins told the Herald Sun she would pursue criminal charges against her son's attackers.
Victoria Police is investigating.
from https://www.theaustralian.com.au/news/nation/video-show-autistic-boy-kic...
see also http://a4.org.au/node/1731