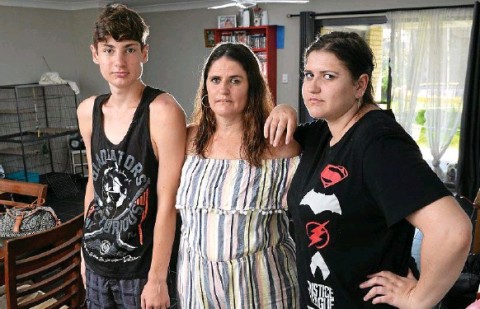 HELEN SPELITIS helen.spelitis@qt.com.au
Rollout nightmare as struggling mum locked in to wrong plan
HEAR ME: Yamanto mum Rhonda Utz with her kids Hayden and Shyanne. The family has benefited from the NDIS but also faced challenges in the planning process.
MUM Rhonda Utz struggles with everyday tasks like doing the groceries.
The Yamanto mum is completely blind in one eye and has two high-needs adult children.
She is one of 300 Ipswich families in touch with the same NDIS provider and her story is not unique.
While the rollout of the NDIS signalled a welcome change for people who wanted to take control of their lives, one particular aspect of the NDIS process has created a nightmare for Rhonda.
She's ecstatic to have extra help in caring for her son but trying to change the plan she never believed suited their needs anyway has proved near impossible. Law firm Maurice Blackburn wants the NDIS rollout to slow down.
"This would avoid significant frustration and distress for participants and their families," Maurice Blackburn's Stephanie Francis said.
EVERY day is a struggle for Yamanto mum Rhonda Utz.
The rollout of the NDIS hasn't alleviated that pressure and she's not the only one experiencing the same kind of issues.
Rhonda has a genetic disorder Marfan Syndrome that affects the body's connective tissue.
She is blind in one eye and her vision is weak in the other.
Rhonda's husband has ASD and ADHD. Her 17-year-old son Hayden has ASD and struggles with social interaction.
Her 18-year-old daughter, Shyanne, has PTSD and OCD.
Everyday tasks like doing the grocery shopping can quickly become a four-hour, highly stressful outing if the children are with her.
Some aspects of their life have improved since Rhonda's family moved on to the National Disability Insurance Scheme.
She now has regular access to carers who relieve some of the pressure of caring for her son, particularly getting him out of the house.
Rhonda struggles when it comes to changes to her son's plan. She feels the original plan for her son was not helpful.
"They handed me all these forms and said read this," Rhonda said.
"But I can barely read anyway and the type was too small.
"I feel like when I try to change something for Hayden, they just make excuses.
"They don't listen. When it comes to forming plans for each individual, they need to listen to the mums and parents more.
"This is every day for us and not having access to different things, like travel or organising a gym membership, can create major problems.
"We've had carers coming in to look after Hayden and that's been wonderful".
Rhonda said the rollout would have been smoother if the initial plan had been more thorough.
The family's experience with the rollout of the NDIS scheme is familiar to law firm Maurice Blackburn's Stephanie Francis.
Ms Francis said families in other cities shouldn't go through the same experience as Ipswich. Participants go through a planning process to decide what kind of support they need when they enter the NDIS. They are then given a plan containing funding for them to purchase support from providers of their choice.
Ms Francis said participants experienced consistent failures in the planning process.
Maurice Blackburn wants the planning aspect of the scheme revised. "It's more than teething issues," Ms Francis said.
"We had feedback from participants that say they feel rushed by over-the-phone planning sessions.
"We have a participant who is blind and did not feel the magnitude of her needs could be adequately covered over the phone."
For Ms Francis, being able to review a draft of the plan before it is finalised, is vital.
"At present, these issues can't be resolved without cancelling the current plan," she said.
The NDIS has options for people who feel their plan does not meet the needs and each participant can request an internal review.
Those still not satisfied can apply for a review by the Administrative Appeals Tribunal.