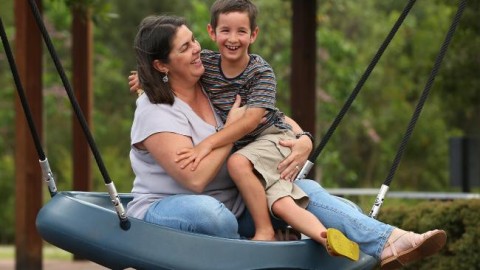 A dramatic rise in autism diag­noses has fuelled a surge in the number of students with disabil­ities, sparking a crisis in schools that education systems are unable or unwilling to fix.
A Senate inquiry into the issue reported yesterday that the education system was failing stud­ents, who were being excluded from enrolling because their disabilities were seen as a problem for individual schools.
The number of autism diag­noses, which doubled in the six years from 2003 to 2009 and every three years since, has been one of the biggest contributors to the growing pressure in schools.
Education systems have scrambled to find ways to support or, in some cases, simply accommodate students with complex social and behavioural needs.
MAGAZINE: The autism explosion in Australian schools
In the north Brisbane suburb of Warner, seven-year-old Noah Ogle is the human face of this uneasy­ merger. Noah is a connoisseur of trains and dinosaurs and was diagnosed with autism­ at the age of three. Last year, a frustrated teacher touched him on the shoulder and demanded he "stop being autistic for five minutes".
"I was a bit devastated that day," his mother Donna Ogle told The Weekend Australian.
"When I first approached the school they said I must have misunderstood or taken it wrong, but they never said it didn't happen."
It did, in fact. That conversation may have been symptom­atic of an untrained workforce but the rest of Noah's education is proof of an ill-equipped system.
Now in Year 2, Noah does not have an individual learning plan — the first step in support that identifies curriculum areas with which a student may need help — and has found teachers both helpful and obstructive in adapting to his needs. "There is funding for autism (a federal government program) which finishes when a child turns seven," Ms Ogle said.
"We have spent all of that on doing reports and investigating how autism looks for Noah. Now, we have all the reports that say 'he needs this and this' and that 'he responds to this' but they (the school) cannot provide it."
In 2003 there were about 34,000 people with autism in Australia. That number jumped to 115,000 in 2012 and, when the surveys from the Australian Bureau of Statistics are finalised, will have risen to approximately 230,000 last year.
The rate is officially about 1 per cent of the population but the Autism Co-operative Research Centre's Andrew Whitehouse says the rate may be as high as one in 88, mirroring trends in Britain and the US.
That is due to a litany of factors including changing rules for how diagnoses work, the influence of tied funding to medical labels and, at the lower end of the spectrum, the pathologisation of quirkiness.
To be diagnosed with Autism Spectrum Disorder, according to the Diagnostic and Statistical Manual of Mental Disorders (DSM-V) released in 2013, people must have both differences in social interaction and evidence of "restricted or repetitive behaviour". This spectrum ranges from the lower end, which includes high-functioning individuals, to the higher end, those with the most need and the non-verbal.
The previous version of the manual, the DSM-IV — released in 1994 and updated in 2000 — expanded the "diagnostic boundaries", which experts agree led to the proliferation of new cases. It is too early to chart what effect the latest iteration has had on rates, but some predict there will be a small decline.
"Australia has not conducted a prevalence study for a while but the rate would no doubt echo what is happening in the US and UK, which is at least 1 per cent," Professor Whitehouse said.
Former Queensland education minister Dean Wells criticised his own lobbying to increase autism funding in schools because it ended up being a "mass defamation of an innocent generation".
In 2010, Queensland's autism rate was one in 50 when around the world it was closer to 160.
"Anecdotally, absolutely there is evidence that the attaching of a dollar to a diagnosis does have an effect on an increase," Professor Whitehouse said.
"One of the terrific reforms of the NDIS is that it is not diagnosis-driven. It is needs-driven: what will happen to prevalence rates will be a direct test of the hypothesis that once you attach a diagnosis to a dollar everyone wants it."
The $22 billion National Disability Insurance Scheme does not legislatively cover the education sector, so whatever reform needs to happen in schools must happen separately.
A Labor-Greens majority Senate committee released its report into education access yesterday, calling for the return of Gonski needs-based funding for students and the immediate implementation of a disability loading which has been promised for years but never delivered. Changes should also be made to initial teacher-education courses which make it mandatory to include "best-practice" skills on the inclusion of students with disability.
The report, condemned as a political exercise by Nationals senator and committee member Bridget McKenzie, said 90 per cent of students with disabilities were in mainstream schools but that these students attracted a funding level of 186 per cent of the base resourcing standard, compared with students in special-needs schools who received 223 per cent.
The report stopped short of pushing for mainstream inclusion schooling as the preferred standard but acknowledged the evidence ­that showed this was now best practice.