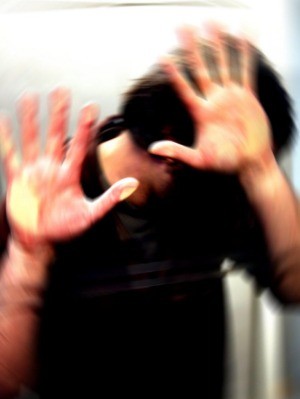 Victorian teachers have been banned from restraining students with straps, holding them on the ground or locking them in seclusion rooms.
As part of a crackdown on forced restraint and seclusion in schools, the Education Department has released new rules to prevent "violent and dangerous student behaviours".
The new rules, which were emailed to principals on Tuesday night, said "rooms or areas designed specifically or used solely or primarily for the purpose of seclusion are not permitted".
Autism Spectrum Australia faced an investigation after staff members built a wooden box to hold people with autism at one of its facilities in Melbourne. Photo: Supplied
They also state that mechanical restraint — which involves using straps, belts or harnesses to control a person's behaviour  — should never be used in schools unless prescribed for a therapeutic purpose.
Teachers have also been banned from covering student's mouths to restrict breathing, and taking them to the ground to restrain them.
"Unreasonable use of physical restraint may breach the Human Rights Charter and may amount to assault under criminal law," the department warned.
It comes amid an investigation into two Victorian special schools, which parents and disability advocates have accused of restraining students with straps and using "cage like structures".
Earlier this week, Fairfax Media revealed that Autism Spectrum Australia was under investigation after staff built a large wooden box to lock up distressed clients.
The new guidelines were welcomed by Australian Association of Special Education Victorian president Helen Hatherly, who accused disability advocates of waging a war against specialist schools.
"It seems to be an ideological agenda to force the closure of special schools, which will leave kids with disabilities at the mercy of the mainstream education system."
She said special schools used restraint and seclusion only as a last resort, when there was an immediate risk of self-harm or harm to others.
Ms Hatherly said she was not aware of any seclusion rooms in schools.
Disability advocate Julie Phillips said that while she was pleased the most dangerous physical restraints had been banned, she was disappointed that seclusion was still allowed.
She said schools could get around the ban on seclusion rooms by locking students in store rooms and sick bays instead.
Ms Phillips also raised concerns about a new requirement that teachers conduct assessments to determine why a child has challenging behaviours.
"These assessments require a high level of expertise and to expect teachers, with all the things they have to do, to now start acting like psychologists and behaviour analysts is not only unreasonable, but it is dangerous."
Australian Principals Federation Victorian branch president Julie Podbury said the guidelines would help eliminate confusion around restrictive interventions. "At the moment there's a variety of approaches taken by people based on their own individual thoughts," she said.
Last month, the state government announced that a new officer would work with schools to improve the way they respond to children with behavioural issues.
And for the first time, teachers have to report every time they restrain or seclude a student.
A 2012 Victorian Equal Opportunity and Human Rights Commission report revealed that 514 teachers reported having used restraint.
Thirty-four parents said their child had been restrained at school and 128 said their children had been placed in "special rooms" to control their behaviour.
An Education Department spokesman said new online training, developed by experts at the University of Melbourne, would help teachers address violent and dangerous behaviours.
"Students and staff have the right to feel safe and supported in their school environment," he said. 
"Teachers have a responsibility to protect all students and, in some cases as an absolute last resort, may need to physically intervene to prevent a student from hurting themselves or others."
from http://www.theage.com.au/victoria/teachers-banned-from-restraining-students-with-straps-20151007-gk3glf.html