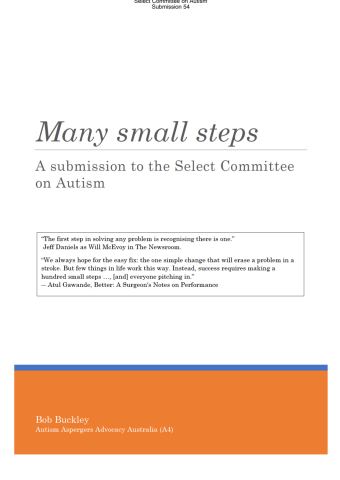 The Senate Select Committee on Autism published A4's submission to its inquiry into the services, support and life outcomes for autistic people in Australia and the associated need for a National Autism Strategy.
A4's submission is titled "many small steps".
Conclusions given in the submission were:
The number of autistic Australians has increased substantially in recent decade. Autism diagnoses went from rare to more frequent than intellectual disability.
The number of autistic women & girls and adults is unclear.
Many autistic people are benefiting from the NDIS but the NDIS still needs major improvement. The ILC need to recognise autistic NDIS non-participants and to meet their needs.
Outcomes for autistic Australians in education, employment and health, especially mental health, need substantial improvement.
Autism Aspergers Advocacy Australia (A4) is optimistic for the future of autistic Australians. We hope this Committee can promote many of the improved outcomes that autistic Australians need.
You can download A4's submission from the Committee's submissions pages, but the links in the version they published do not work. If you want one with working links (which are an important part of the document), download a copy from the link below.