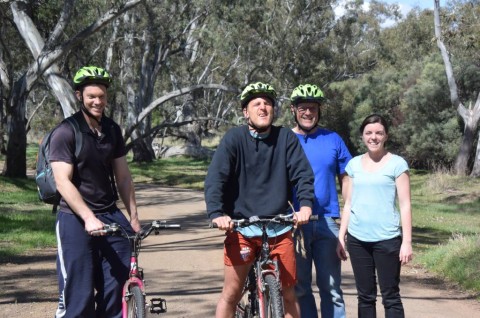 THE family and friends of a Lockwood South man with severe autism have just nine days left until he is once again taken from their care.
Luke Modra, 27, has lived at the expansive property specially designed for his needs for several years, and in the last nine months has been under the direct care of eight support workers.
But on Saturday, his parents had to inform the workers they would no longer have a job on Monday after they were unsuccessful in convincing the Department of Health and Human Services to pay the casual wages.
The outcome means Luke will be taken into the care of the DHHS from October 1 and will leave the property for the first time in years.
His mother Ellen Modra said they had no idea where he would be taken.
"He will be completely traumatised. It's a completely horrible situation for us and those who care for him, but I also feel for the poor people who will have to look after him next," she said.
The family fitted out the large Lockwood South property for Luke to carefully manage his daily routine, as well as his frequent aggressive outbursts.
They were unsatisfied with the home-based care Luke received from a care provider, so from January this year the family have hired eight workers to support him around the clock.
Mrs Modra said since January, Luke's behaviour had improved "out of sight".
They received funding from DHHS for the workers but the family's contribution became too great for it to continue.
A DHHS spokesman said the Modra family had to decide how it allocated the funding it received.
But the family said because they could no longer afford the care they wanted, he would be taken away.
More than a job for support workers
When Josh Gay first met Luke Modra in January, he found a man who seemed to have the weight of the world on his shoulders.
Luke with support worker Josh Gay. Josh says the workers have become like a family and they love Luke like a brother. Picture: ADAM HOLMES
"When I came here, Luke was angry. Society had let him down," he said.
"He was traumatised, he didn't trust anybody and he was aggressive."
Luke's severe autism meant he had been handballed from organisation to organisation throughout his adult life, until his parents Mark and Ellen Modra decided enough was enough.
Using funding from the Department of Health and Human Services, they hired eight support workers to look after him around the clock.
Within months, the bonds they had formed with Luke were like nothing he had experienced before.
"He's helped my life as much as I've helped his," Josh said.
"We're people from all backgrounds, coming together on this property and have created something very special here with a very special man."
In January, if a stranger came on the property, it would set off a paranoid and dangerous spiral from Luke.
Today, he calmly smiles for the camera, even saying "cheese".
A sensory room in the house is used when Luke's mood begins to wane. Before, it was a feared room. Today, he can tell when he's getting angry and requests to go to the room.
Support worker Laura Anderson said it had been a remarkable change.
Friends celebrate Luke's birthday with a bonfire. Camping and spending time outdoors are his favourite activities.
"We're not just in it for the job here. We all love him," she said.
"If people had seen what he's like now, I don't think anyone would take him away."
But that's what will happen on October 1, when DHHS is likely to arrive at the property.
The department says a "range of options are being considered to meet Luke's needs and the wishes of his family", and they will continue to work with the Modra's, who decides how funding is spent on their son.
Mrs Modra struggles to fathom how anyone could take Luke out of the environment at the Lockwood South property.
"You know what will happen, they will take him away and three months later he'll be back here, but he'll be back to how he was a year ago," she said.
"They will realise the mistake.
"All of the hard work will be gone by then though."
The family had planned to build a second small house on the property to care for another autistic person in need. But now those plans are in the distant future.
For Josh, he can't imagine life without his best mate Luke.
"This can't all be for nothing," he said.
For more information, visit www.justforluke.com