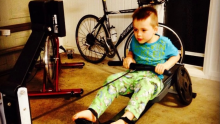 Georgie Hewson
When Isaac Lappin's son was 18 months old, he wasn't sure he'd ever be able to speak.
"I noticed the first change was within that first 18 months, which is a big turnaround with a lot of autistic kids," Isaac says.
"With that 18 months, the visual signs were like most [autistic] kids — like lining up toys, cups had to be the same, and just little things like that we really noticed.
"Then being non-verbal … back then, there wasn't much help."
Isaac's son was diagnosed with autism, and it hit home for Isaac, who is autistic himself.