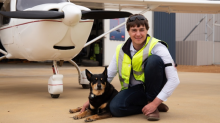 Hayden McDonald didn't always feel like the world was built for him. But from thousands of feet above, life makes perfect sense.
"It's a disconnect from the world, it's my escape," he says.
Hayden McDonald takes off in a light aircraft: he feels at home when he's flying (Gfycat)
"Being on the autistic spectrum, life is a little bit difficult, so it's a way for me to be myself without anyone trying to tell me who I am."