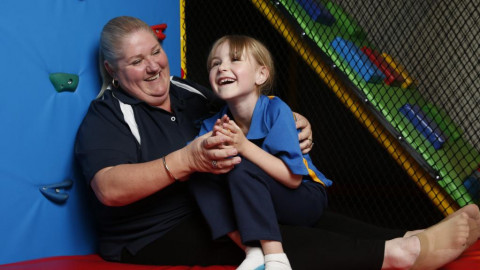 NSW schools are failing to report horrific cases of abuse against disabled and special needs students, as a parliamentary inquiry yesterday heard the state had "failed these kids".
One advocacy group has called for a royal commission following the revelation of several shocking alleged incidents­ in which children were tied to chairs by their ankles, locked in cupboards or beaten with sticks by their teachers.
The inquiry has uncovered widespread outrage from parents and disability support networks, who have tabled 423 submissions to the committee detailing dozens of cases of alleged abuse and neglect in NSW primary and high schools.
Paralympian Tiffany Thomas-Kane, who has won gold for Australia at the Paralympics, was was allegedly stripped naked and locked in a closet on a school camp in 2015.
Among the worst reported incidents, a child was tied to a chair with "ankle straps and a weighted belt".
In another case, a student was beaten with a stick, while one parent alleged her son was placed in a "headlock" and dragged out of class.
Yesterday, Deputy NSW Ombudsman Steve Kinmond gave evidence that "restraints" were still being used by teachers and lambasted the education department for failing to keep records of such incidents.
"I don't think one can be confident that every time a child is physically restrained that a parent is notified and there is an adequate review process," he told the inquiry.
"We would argue that seclusion­ is not an acceptable option. Namely a child's freedom of movement cannot be restricted."
Tiffany Thomas-Kane celebrates her win in Rio.
A special NSW Ombudsman report tabled at the inquiry revealed 78 teachers had been criminally charged last year over child sex and violence claims. Of those, 19 related to disabled children.
Inquiry committee member and Greens MP David Shoebridge said the state had failed those children.
It is a situation all too familiar­ to Lee Kane. Her 16-year-old daughter Tiffany Thomas-Kane, who was born with a form of dwarfism called hypochondroplasia, was allegedly stripped naked and locked in a closet on a school camp in 2015.
Mrs Kane said she was stunned that her daughter's school, Ravenswood School For Girls, did not respond in time for deadline.
Pauline Hanson says autistic kids should be removed from mainstream classrooms. Credit - Australian Parliament House via Storyful
"They knew about it and they could have done more at the beginning," she said.
"It became horrendous at the end and they had no choice but to act. I am lucky Tiffany is mentally strong.
"It is upsetting seeing your child go through this."
Tiffany went on to win gold for Australia in the 50m breaststroke at the Rio Paralympics last year.
Ravenswood School did not return calls last night.
Kelly Fellowes fears daughter Maddison, who is non-verbal, would suffer at school and be unable to communicate. Picture: David Swift
Children and Young People with Disability Australia chief executive Stephanie Gotlib said Tiffany's story was becoming more common and supports broader calls into a royal commission into violence and abuse against people with disabilities.
"We are getting reports of abuse far more frequently," she said.
"The complaints process is unclear and the response by education authorities is not what it should be."
Kelly Fellowes is concerned her six-year-old daughter Maddison, who has severe autism, could be at risk in public schools.
"My daughter is non-verbal — she can't communicate if she is being picked on," she said.