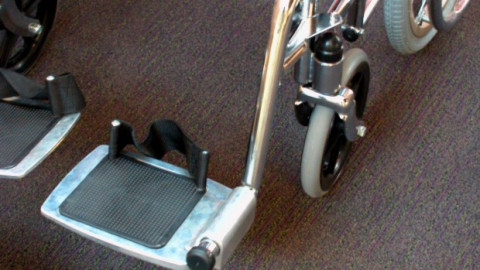 Nearly half of all Victoria's disability sector employees have witnessed their co-workers perpetrate acts of abuse, violence or neglect on people with disabilities living in their care, a survey reveals.
The findings have raised fresh concerns around the lack of qualifications needed to work in the industry, and warnings that abuse will only increase without reforms to "professionalise" the sector before it doubles in size under the National Disability Insurance Scheme.
State and federal inquiries, which have heard abuse is "rife" in disability homes and institutions, were launched last year after Fairfax Media revealed a former Yooralla manager had been raping women in his care.
Disturbing accounts of abuse and fear of reprisal for whistleblowing are detailed in multiple submissions. Among them are instances of residents being bound with gaffer tape; sexually assaulted by staff; denied food; and one case of a man who died after being given a sausage to eat by staff who were unaware he could not swallow solids.
"My experience has been that they persecute the whistleblowers, not the guilty party," said one disability worker, who did not want to be named.
"Staff are, at times, too scared to report abuse or neglect as it is either not acted on or you become a victim yourself by being bullied by supervisors or team leaders."
A Fairfax Media investigation last year revealed Australia's biggest disability service provider, Yooralla, mishandled a number of cases of improper behaviour, including failing to act on warnings about carers who went on to sexually abuse vulnerable residents.
Now, the survey by the Health and Community Services Union of more than 500 disability workers in Victoria and Tasmania alone has shed new light on the extent of resident mistreatment in group homes and institutions sector-wide.
More than 46 per cent of workers said they had witnessed violence, abuse or neglect against people with disabilities by other staff. Almost 55 per cent of those respondents said the staff-to-client abuse occurred frequently or occasionally.
"We say that standards are fundamental to the prevention of abuse," HACSU secretary Lloyd Williams said.
"The occurrence of abuse, neglect and sometimes violence against clients is because of the current staff accreditation and registration system is totally flawed, there are no minimum qualifications or training requirements, and there's a complete lack of ongoing professional development."
Mr Williams said the overwhelming majority of disability workers did an exception job in very difficult circumstances, but with the rollout of the NDIS to begin next year, the need to "professionalise" the workforce and ensure proper standards and human rights could not be ignored.
"If I want to be a security guard at a casino or a pub, I have to have a minimum qualification, be put on a register and be a 'fit and proper' person, but If I want to work in disability, all I need to do is pass a police check," he said.
"To introduce the NDIS in these circumstances, without better accreditation and without funding for minimum training standards and professional development, constitutes criminal neglect by governments."
Victorian Advocacy League for Individuals with a Disability chief executive Kevin Stone said the fact that that there were not yet any national standards attached the NDIS was a major concern.
"We are proceeding towards this national roll-out without having national standards and a quality framework ... it defies logic," Mr Stone said.
"If a person isn't secure in their jobs or isn't well-trained or well-supported, there is a strong likelihood they are going to give second-class support."
Victorian Disability Minister Martin Foley said the NDIS was a historic Labor initiative. He said the findings of the state parliamentary and ombudsman inquiries into disability sector abuse would be critical to guiding recommendations for the NDIS roll-out.
"The Victorian government will advocate for a strong NDIS quality and safeguards framework to prevent and respond to abuse," he said. "This will be informed by the final findings of our own parliamentary inquiry and the ombudsman's inquiry."
from http://www.theage.com.au/victoria/abuse-rife-in-victorian-disability-sector-survey-20150824-gj6fyj.html