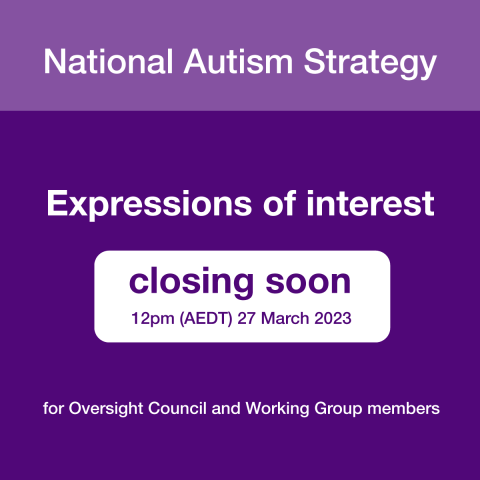 Expressions of interest are now open for the National Autism Strategy's Oversight Council and its Working Groups.
This is an exciting opportunity for autistic people and representatives from the autism community to make sure the voices of autistic people, their families, carers and those that work to support them are at the heart of the National Autism Strategy.
The Oversight Council and Working Group members will guide the co-design work to develop and implement the Strategy, with Working Groups to consider four key areas:
Social inclusion
Economic inclusion
Diagnosis, supports and services
Mental health (National Roadmap to Improve the Health and Mental Health of Autistic People).
Members will include autistic people and autism community representation alongside researchers, professionals and government representatives.
The expression of interest process is being conducted by a number of our Disability Representative Organisations, the Australian Autism Alliance and the Autism CRC. This will include ensuring that the unique experiences and challenges for autistic First Nations people, autistic women and girls, autistic people from culturally and linguistically diverse (CALD) backgrounds, and autistic people from the LGBTIQA+ community are represented.
More information:
Expressions of interest close at 12pm (AEDT) on Monday 27 March 2023.
Have your say – online community attitudes survey
Autism CRC are doing a survey to hear from the autistic and autism community with early advice to inform the National Autism Strategy.
Views and experiences shared in the survey will help identify key themes and issues that should be considered in the development of the Strategy. There will be plenty of additional opportunities for people to be involved in the development of the new National Autism Strategy.
The survey will take about 30 minutes to complete and closes at midnight (AEST) on 30 April 2023.
Complete the survey now at: https://redcap.link/Haveyoursay.
About the survey: This study is funded by the Autism CRC and being undertaken by academics from Griffith University and Curtin University and Dr Wenn Lawson. The project team includes multiple autistic and neurodivergent researchers.
Funding announcement
Recently, the Minister for Social Services The Hon Amanda Rishworth MP announced funding to the Autism CRC to continue its important research and provide advice to support the development of a National Autism Strategy.
This is an important early step towards the development of a National Autism Strategy.
The Minister's announcement confirmed the Strategy will be co-designed through a consultation process with autistic people and their families and carers, the autism sector and researchers.