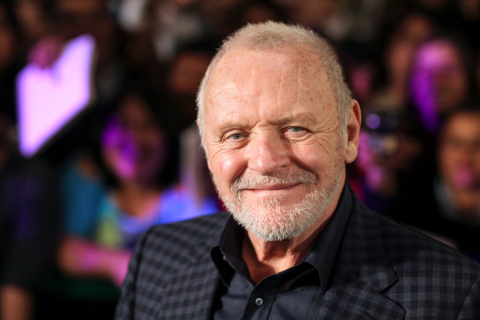 Zack Budryk
Anthony Hopkins, Wentworth Miller and others are showing us that autism is more varied than it once seemed to be.
In late July, actor Wentworth Miller of "Prison Break" and "Legends of Tomorrow" posted an image of a white square to Instagram, accompanied by the revelation that he had been formally diagnosed as autistic a year before.
"This isn't something I'd change. No. I get — got — immediately [that] being autistic is central to who I am. To everything I've achieved/articulated," Miller wrote.
Miller in many ways embodies our improved understanding, in recent years, of what autism can look like. For decades, autism in the public imagination has been associated with young white boys, due in large part to diagnostic criteria oriented around them — criteria that increase the likelihood their symptoms will be recognized and looked into early, relative to those of girls and people of color. Miller, in contrast, is a 49-year-old man from a multiracial background. He noted the frustration of the one-size-fits-all diagnostic process in his post, writing, "It was a long, flawed process in need of updating … I'm a middle-aged man. Not a 5-year-old."
Miller is also the latest of several public figures whose openness about their autism is challenging the narrow public image of the disability. These figures are breaking down stigmas and potentially paving the way for people who may have thought their identities were already set in stone to find a new understanding of themselves. For autistic people like me, that means the world, but I suspect it means even more for those like Miller who don't fit the long-established, and always misleading, mold of autistic stereotypes.
When I was diagnosed at the age of 14, these people were either undiagnosed or not yet public figures. The most famous autistic person at the time was probably Temple Grandin, but I can't even recall whether I had heard of her at that point.
Toxic parenting myths make life harder for people with autism. That must change.
And I was a white, middle-class teenage boy, distinct from the autistic archetype of Lifetime movies or inspirational "Today" show segments only in that I was verbal. I can only imagine how much more baffling experience it would have been to be a newly diagnosed adult, person of color or girl coming to terms with this part of themselves in a world without so few other public examples who shared their background or experience. The broader the range of people who, as Transportation Secretary Pete Buttigieg put it, "come out of the shadows," the less likely an undiagnosed person of any age is to dismiss the possibility simply because they don't look like the standard media representation.
New York assemblywoman Yuh-Line Niou (D), the first known autistic woman elected to a state legislature, was diagnosed at the age of 22. In a phone interview, she told me many of her autistic traits flew under the radar when she was a child. In some cases, she said, this was because they were too positive to register as a disability or disorder, like high academic achievement. In other cases, she added, she was not seen as atypical because of such factors as the greater social need for girls to camouflage symptoms, or those traits being considered less culturally remarkable in an Asian American household.
As a public figure, she acknowledged the significance of being an adult woman of color in a landscape where autism has frequently been associated with none of the above. And as she mentioned in our discussion, despite our different backgrounds, we have in common that we both entered fields where no one would expect us to thrive based on the popular stereotypes of autism.
Many of the biggest names who've identified themselves as autistic are still disproportionately white, but they're still showing that autism is not as tightly restrained as many believe it to be. Today, Swedish climate activist Greta Thunberg, perhaps the most public autistic person in the world, has spoken extensively about her autism and said it gives her a commitment to truth and authenticity that strengthens her activism. "I don't usually follow social coding and so therefore I go my own way," she told "PBS NewsHour" in 2019.
Autistic young people deserve respect and attention — not dismissal
Thunberg defies the popular perception of autism in another smaller, but very important way: She's funny. After then-President Trump mocked her in 2019 as a "very happy young girl looking forward to a bright and wonderful future," even as her defenders expressed outrage, Thunberg simply made the description her Twitter bio.
Actor Anthony Hopkins disclosed his own diagnosis in 2017, decades into an illustrious career that had already seen his first of two Oscar wins. "It's a great gift, actually," Hopkins told the Canadian Broadcasting Corporation in 2020. "I was a bit slow as a school kid, and so I made up for it by working hard, and I became, you know, a successful actor. Obsessiveness about the details."
In 2013, Susan Boyle, the Scottish "Britain's Got Talent" contestant who shot to fame four years earlier with her rendition of "I Dreamed a Dream," revealed she had also been diagnosed as on the autism spectrum. Like Hopkins, Boyle described a feeling of deep relief and clarification, telling the Observer that since receiving the diagnosis, "I have a clearer understanding of what's wrong and I feel relieved and a bit more relaxed about myself."
Those sentiments can inform the way others feel, too. Niou first discussed her diagnosis with the media when she spoke to journalist Leah Carroll of Refinery29 in 2020, and since then, "a lot of parents and a lot of people have reached out to me, saying it was really significant for them to hear that I had this diagnosis and that I've been public about it," she said.
"I didn't realize it was something people would be so happy to hear about," she added. "I didn't know that people in our disability community was needing my voice on this issue publicly. I'm also a woman of color, which is also very, very different, because definitely it was always white males as the poster child or the typical case."
Hiring neurodiverse people like me can give companies a competitive advantage
Award-winning cartoonist Jon Rosenberg, creator of the webcomic "Goats," didn't realize he was on the spectrum until this year and said the realization came after spending "my whole life wondering why I was so different from everyone, wondering what was wrong with me."
"Now that I've figured out I'm autistic I know there's nothing wrong at all. It's a huge relief to finally have the context that helps everything else make sense," he added. "It would have been useful if any one of the many therapists I've seen would have diagnosed this for me earlier, but once you're an adult and you've learned to mask effectively, very few people recognize or care that you're still facing challenges every day."
In the landscape of 2021, however, an autistic person, or even a person considering the possibility that they might be autistic, need not be restricted to narrow examples; the public faces of autism increasingly contain multitudes in a way they didn't two decades ago. And the more people tell their stories, the less likely autistic people are to wonder whether their experience is too far removed from the norm to count. Increased and varied representation alone can't break down the institutional barriers that might prevent a person from being diagnosed or getting the accommodations to which they are legally entitled. But even leading someone to consider the possibility that they might be autistic could be a vital first step in a process of realization that would never have been on the table otherwise.
By Zack Budryk
Zack Budryk is an autistic journalist who covers environmental and energy issues for The Hill. He also co-hosts Stim4Stim, a relationship podcast by and for autistic people.