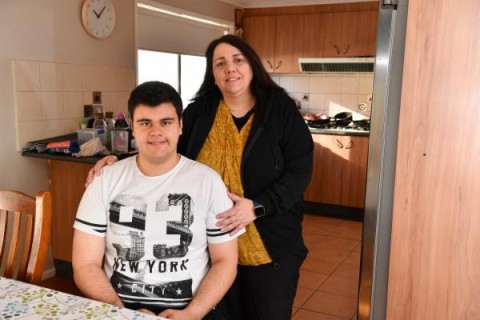 Tate Papworth
For many residents a return to lockdown is tough.
For carers and those with a disability it's a return to the toughest of situations.
Keilor Downs resident Despina Havelas is a full time carer for her 19-year-old son Kon.
Kon requires Ms Havelas' support due to his Autism.
She has long been an advocate for better carer support within Brimbank and said prolonged periods of isolation have exacerbated the issues.
"There's a real struggle with ability to find workers with the NDIS and have workers tested to come in to the house at this time," she said.
"Finding activities within the house to do hard… someone suffering autism struggles with one-on-one activities.
"Kon's anxiety has increased, he doesn't have answers and doesn't know where to get them.
"We don't have someone come in, so all he sees is in media and it being reported how bad this area is."
Ms Havelas said her son has battled high anxiety, an increase in "behaviours", loss of appetite and disrupted sleeping patters as a result of the pandemic.
While the pandemic has been a challenging time for Kon, it's also been a battle for Ms Havelas as a carer.
"I'm feeling isolated…I've lost the ability to catch up and talk with other carers and support services like Carers Victoria haven't even checked in with a phone call to see how I'm doing."
She called for all levels of government to provide support programs for carers.
"From what I'm seeing, my governments aren't putting support into me," she said.
"I'm left to deal with Covid in isolation… I haven't seen the extra support.
"We have extra pressure on us during this time, but what's left for us where is our relief?"