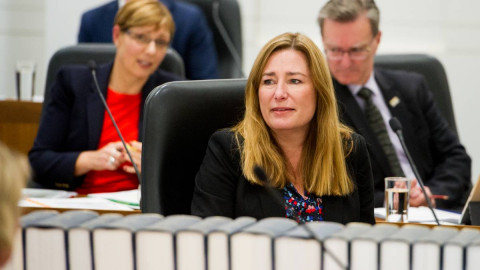 Sherryn Groch, Kirsten Lawson
A nine-year-old boy who feels "all hope is lost" after being punched, kicked and strangled in the schoolyard remains in the same class as the child responsible.
A family was forced to send their daughter interstate to escape bullying and violence at school, after footage of her assault spread across social media last year.
These are some of the harrowing stories parents have shared with an ACT inquiry into school violence
In February, revelations in The Canberra Times that some students were being left in harms' way after attacks sparked calls from parents and the opposition for an expert-led inquiry into the handling of violence in schools. Instead, the ACT government referred the matter to a joint standing committee - on the condition it seal any evidence which could identify a person or a school.
The Canberra Liberals slammed the order as an unprecedented attack on the committee's autonomy, but the ACT's childrens' commissioner backed the move given the sensitive nature of the evidence.
A number of secret hearings have already been held behind closed doors, though the committee chair was unable to say how many there would be in total or if any would be public, as had previously been indicated.
Canberra Liberal Andrew Wall warned the inquiry had been "locked down".
"It looks designed to protect the minister's reputation rather than shine a light on the problem," he said.
But most submissions to the inquiry have now been made public. Some parents praised the efforts of individual teachers, who they said often appeared "powerless" and under-resourced. Others described repeated broken promises made by schools or officials that their children would be safe.
One parent said her young son had been repeatedly attacked only to be told by the school's principal he should work on his own resilience as the other child's behaviour "was not going to change". The incidents, which began when the boy was seven, left him terrified and contemplating suicide.
"[A child] had choked him ... using both hands," she said. "He told me he could not see out of his eyes. I work in medicine and realised straight away that this was serious and he had been close to passing out."
Three years on, her son was back in the same class as the child responsible and his anxiety levels had once again "gone through the roof".
In another submission, two parents said their teenage daughter had been left with a permanent lump near her eye after she was punched in the head and face in a recorded assault. She began to have panic attacks, which worsened each time the video resurfaced or incidents continued. She was "verbally abused, told to kill herself, kicked in the back, chairs kicked out from under her, a rubbish bin tipped on her head. Basically, her life was hell. It was relentless."
Teachers are doing the best they can [but] they weren't able to stop any of it.
A group of about 20 students seemed to "terrorise the school", the parents said, and had even threatened to come to the family's home and smash their windows.
"Teachers are doing the best they can [but] they weren't able to stop any of it."
The parents said the school eventually recommended they remove their daughter. With few options elsewhere in Canberra, they sent her to live with relatives interstate. Now, she was no longer suffering from abuse or harassment and was engaging with school again.
"Why have we had to move our daughter interstate to get a safe education?" her parents wrote. "There is something fundamentally wrong with the education system if this happens."
A number of other families have also uprooted and moved schools following violence. Among them was Susan* and her son, who has complex needs related to autism and trauma, and was once prone to violent outbursts. Before he was eventually moved on, Susan said her son's trust in his school broke down. Staff would often restrain him, call the police or put the school into lock-down.
"Despite being identified to be part of the gifted and talented program, my son barely engaged in learning as he was rarely allowed at school," she wrote.
At his new school, Susan said her son was now thriving and in, 120 days, had not lashed out once. Staff had welcomed him and made a number of modifications, she said, including recruiting a youth worker and offering a sensory space for him to retreat to.
Menslink chief executive Martin Fisk said, in his experience, most of the young men responsible for incidents at school had suffered violence themselves at home. He echoed calls from Education Minister Yvette Berry for an improved community response to violence, particularly in tackling the spread of violent footage on social media.
The ACT government said it had spent more than $8 million on occupational violence reforms and was now working to improve student incident data, which is still not kept centrally. Work was also underway to make schools more inclusive for students with complex needs and campuses were rolling out a new positive behaviour model based off a system already in place in NSW. The government said the program would, over time, help standardise responses to incidents. In some schools, including Charnwood-Dunlop Primary, it was already showing remarkable results.
The Australian Education Union, which helped the government develop its reforms, also said things were improving on the ground for teachers caught up in violence, but some incidents were still handled poorly. A systemic response required more than just monitoring data, the union noted.
The independent teachers' union said violence appeared to be on the rise in schools but teachers often feared career repercussions if they intervened.
The ACT Council of Parents and Citizens Associations acknowledged that schools worked hard to keep people safe but stressed better strategies and more resources were needed. Some families felt let down or not listened to, the council said and there was a clear need for improved support for those experiencing trauma.
The council is calling for a direct avenue where families and students can report incidents.
Another parent said her son had experienced and witnessed violence from his first day of high school this year. In his first week, one of his friends had been punched and kicked while being filmed.
By his fourth week, her son said he had been "coat hangered" around the neck while eating his lunch then kicked in the stomach. Her request to transfer him to another school had been denied, she said.
But the ACT Principals Association insisted schools were safe. Concern was to be expected from Canberra's "involved" population, it said - this was after all same community with the nation's highest participation rate in the marriage equality vote.
In a starkly personal submission, a teacher told the inquiry he had been attacked himself as a student in Canberra and the scars of those incidents had impacted both his health and education.
The ACT Council of Social Services recommended bringing in specialised external support early to work with a school's executive on incidents, leaving teachers free to focus on student learning.
It also said funding for school psychologists should not be tied to individual schools or even school terms. Instead, students should have continuity of care during holidays and if changing schools.
*Not her real name