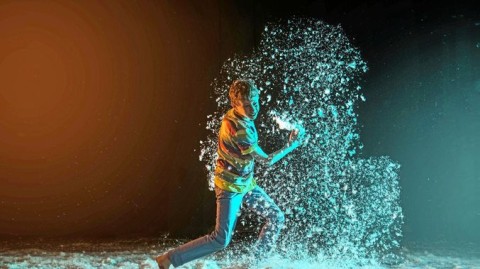 FLIPSIDE Circus ensemble artist Ethan Langridge was the inspiration for a special production that sheds light on living with Asperger's syndrome.
The production, Kaleidoscope, presented by Company 2, will head to the Sydney Opera House immediately after the Lake Kawana Community Centre performances on April 13 and 14.
As a young teen, Ethan lives in a world that is a place of wonder - where everything is up for question.
Born with Asperger's syndrome and a hearing impairment, he travels through layers of complex dynamics, dealing with enlightened senses and raw emotions, interwoven like delicate fuses. There within is a young boy seeking to be satisfied and whole.
Possessing eccentric qualities, Ethan is one of untameable beauty.
Due to this syndrome, Ethan, who is now 14, perceives the world differently.
He prefers to understand the world through touch. He senses his surroundings with the pads of his fingers or the tips of his toes and he unwittingly invited his mother, Johanna Wharton, to view his world with him.
Johanna describes stepping into Ethan's world like joyfully walking through shafts of colour and light - a dazzling kaleidoscope.
She wrote a book about her experiences with Ethan which inspired the creation of the show.
Kaleidoscope is a work that allows Ethan to express himself through the physical form that he loves: circus.
The show journeys through the ups and downs of everyday life and celebrates the unique spirit of Ethan and young people like him in our community.
Directed by Chelsea McGuffin with the ensemble of Company 2 and Ethan Langridge, this is one Easter holiday show the whole family can enjoy. Audiences will be able to view the world through Ethan's eyes with this joyous, poetic performance and explore the great beauty found in the smallest things.
Tickets to the show are $20 per person or $16 per person for groups of 10 or more.
Workshops taking place immediately after the show are designed for the young at heart to develop their creative thinking, build performing skills as well as rethinking the potential of circus and discovering the circus artists inside us all.
The performance and workshop costs $30 per person.
Call Lake Kawana Community Centre on 5413 1400 or visit http://www.scvenuesandevents.com.au