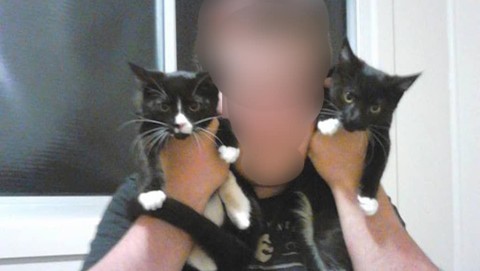 By Adam Cooper
Ryan was destined for a life of disadvantage. Mum's drinking while pregnant caused fetal alcohol syndrome, and he was born with an intellectual disability into a dysfunctional family in a rural town.
Well behind from the first seconds of life, Ryan was exposed to physical and possibly sexual abuse as a child, was in state care from 11 and using alcohol and drugs in his teens. Now 21, he has been diagnosed with ADHD and has the literacy skills of a prep.
Seated in the County Court dock two weeks ago, Ryan* couldn't understand what was being discussed before a judge, and during a break called to his lawyer, Julien Lowy.
"Julien, can you get me a Big Mac meal?" he asked. "C'mon, get me out of here today, not tomorrow ... I am in the worsest (sic) place I could be."
Ryan has spent 16 months in prison despite being found unfit to stand trial on charges that, had he pleaded guilty to, might not have resulted in jail.
His situation, and that of an intellectually disabled woman imprisoned for 18 months despite her unfitness to stand trial, has raised concern among lawyers, the judiciary and disability advocates that authorities aren't doing enough to find vulnerable people accommodation and support, and prison is instead housing those with nowhere else to go.
In September 2016, Ryan was next to a 14-year-old girl in the back seat of a car driven by a Department of Health and Human Services carer. During the short trip, Ryan touched the girl over her clothing and put her hand on his crotch.
Three months later he told police he "shouldn't have done that" and was charged with two counts of committing an indecent act with a child under 16.
A lack of suitable accommodation and support, combined with concerns over his anti-social behaviour and past allegations of inappropriate sexual conduct meant Ryan went into custody to wait for his case to go before the courts.
He's still in prison.
During Ryan's last court appearance, Mr Lowy said the young man was isolated from other prisoners through a 24-hour lockdown, and rarely left his cell.
Ryan spent almost a year in jail, including waiting for medical assessments, before a jury found him unfit to stand trial. Another jury found he was mentally impaired when he offended against the girl.
The situation has dismayed judge Mark Taft, who in hearings this year has described Ryan's plight as extraordinary and intolerable.
Two weeks ago Judge Taft rebuked the DHHS for its tardiness in assessing Ryan for a place at a facility that provides specialist treatment for disabled people in the criminal justice system.
"I am not prepared to allow this court to be an instrument of oppression," Judge Taft said.
Later, when told the assessment would be accelerated and that the department regretted the delay, the judge said prison was not appropriate given Ryan's need for prolonged, extensive treatment.
"A community expects and demands that the department accepts its responsibilities for people in (his) situation," he said.
Ryan's case returns to court next week.
Figures show 42 per cent of Victoria's male prisoners and 33 per cent of women prisoners have acquired brain injuries. But despite those numbers, the state's Public Advocate, Colleen Pearce, said jails were generally poorly-equipped to support prisoners with disabilities.
"Being held on remand for long periods is distressing for the person," she said. "It can lead to self-harming and other behaviours that make it more difficult for the person to be released, and may lead to loss of services and greater challenges in negotiating appropriate supports for reintegration back to the community.
"A better understanding of disability in the criminal justice system may lead to the withdrawal of charges at an early stage and the use of tools such as behaviour support plans and supervised treatment orders, if necessary, to better support people."
Ms Pearce's office last year acted for Andrea* while she was in jail, but had trouble getting National Disability Insurance Scheme staff to meetings and to approve funding for housing and 24-hour care, even with a support agency in place.
Andrea, who has Autism Spectrum Disorder, was in jail for 18 months from a 2016 arrest at her parents' home. She was charged with three counts of resisting arrest, which included spitting at police Bail was never an option without accommodation and the risk of reoffending, even though, the County Court heard, her disability worsened in prison.
Two juries took little time last year to find Andrea unfit to stand trial and then mentally impaired when she offended.
Those appearances before the juries were notable for Andrea's frequent interjections, from disputing evidence with police, to monologues about the royal family to asking lawyers and the judge their star signs.
But even after the verdicts, Andrea languished because of what her lawyer, Tim Marsh, called "inertia in the system".
"It is an indictment how long she has been in custody," Mr Marsh told the court in August. It was another five months before Andrea was released on a non-custodial supervision order and into specially renovated housing.
Judge Taft last year described Andrea's case as a profound injustice, and unimaginable that someone in her position spent so long incarcerated. Her case "reflects very poorly on the criminal justice system and on the welfare system".
Ombudsman Deborah Glass is now investigating Andrea's case to determine "whether her conditions in prison were humane and met her complex needs" and whether authorities did enough to find her better accommodation.
Determining if these cases are isolated or part of a systemic problem is also part of Ms Glass' inquiry.
Mr Marsh estimates 30 per cent of Victorian prisoners have intellectual disabilities or mental illnesses, and has found some who wouldn't be there if support services were better.
"More people are entering the criminal justice system now than previously, just because of service failures and a lack of support," he told The Age.
A DHHS spokeswoman said the department was always working to improve responses to the "small number of people in the justice system who have extremely complex needs". Managing these people required careful coordination around court orders.
"In all cases of this kind, the department supports the least restrictive set of arrangements - balancing the needs of the individual and community safety, including risks to the wellbeing of the individual and the risk of offending," she said.
A spokeswoman for the NDIS said the criminal justice system was responsible for meeting the needs of disabled prisoners, but that the agency worked with authorities when planning their release from jail, to ensure the right supports were in place.
* Names have been changed