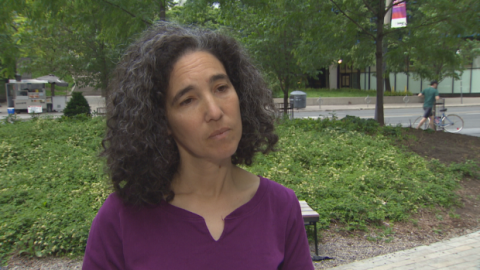 Nick Boisvert
Ontario-wide study also found that people with autism are more likely to interact with police
People with Autism Spectrum Disorder are more likely to have adverse, agitating interactions with police, according to a new study released by the Centre for Addiction and Mental Health (CAMH).
In an 18-month study involving 284 young people and adults with autism in Ontario, 16 per cent reported having an interaction with police — a number far higher than the general population, according to researchers.
In around a third of those incidents, police action was found to increase the person with autism's agitation, worsening the situation.
Ontario autism program to offer direct funding at families' urging
Mom wants 'a world of compassion' for her daughter living with autism
"If police maybe don't recognize or understand that there's autism there, they don't have the right sensitivity to respond," said Yona Lunsky, a clinician-scientist at CAMH who conducted the study.
Lunsky said police need to be on the lookout for behaviours like repeating commands, avoiding eye contact or not responding to an officer's questions. 
"They might think, 'well, they're not responding because they're refusing to respond, they're not responding because they're thinking about something really bad they're going to do,'" she said. "Then maybe things can escalate as opposed to the situation getting calm."
That escalation resulted in the use of physical restraint in around a fifth of the interactions looked at in the study. Lunsky says officers likely did not have to resort to that tactic as often they did.
Kim Elltoft says her 17-year-old son is among the Ontarians with autism to have experienced aggravating police interactions. He's been living in shelters and on the streets for the past six months due to his autism, she said. 
"I think there are many times the police would have treated him differently if they knew he was autistic ahead of time," Elltoft said.
She said an officer not trained to recognize autism would likely mistake him for "a belligerent teenager," which could hamper their ability to communicate with him.
Recognizing cues critical
Autism experts say that training programs must teach officers to better recognize if a person is autistic.
Autism Ontario executive director Margaret Spoelstra says police must learn to quickly identify cues that a person may be autistic. (Twitter)
"It means that [officers] have to sort of suspend their go-to responses on what they're observing behaviourally," said Margaret Spoelstra, executive director of Autism Ontario.
If an officer fails to change their approach, Spoelstra said, some of the usual police tactics such as ramping up instructions, moving closer or even making physical contact can quickly backfire.
"For the person with autism, it increases their anxiety," she explained. 
Spoelstra added that stories of positive police interactions suggest that officers are capable of making this adjustment, if they're trained to do so.
While Lunsky says the findings suggest the need for improved police training, she also points out that the majority of police interactions do not worsen the situation.
Her study found that nearly half of the interactions had a "calming effect," and 17 per cent were found to have no effect.
Lunsky attributes that to police training that, while not yet completely adequate, has improved over the last five to 10 years.
Police respond
"While training has increased, there is no doubt that it can be better," said Toronto Police spokesperson Mark Pugash.
That training showed itself during a police call in 2012, when officers responded to a call at a Toronto home where a young person with autism was on the verge of violence.
Police were able to successfully de-escalate the situation when they arrived, said the boy's mother.
"They were very calm, there were no loud voices or anything like that, they were very respectful," said Lois, who did not provide her last name for fear that her son could be identified and discriminated against.
Lois has her son listed under the Toronto Police vulnerable persons registry, where the guardians or caregivers of people with the potential for unpredictable behaviour can voluntarily register them.
Lunsky says that can form part of a family's strategy to prepare an person with autism for a possible police interaction, which should also include discussions about how to best support an autistic family member dealing with the police.