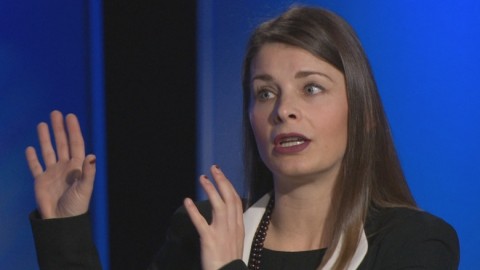 Between five and 10 per cent of students have learning disabilities, Young says
Ryan Cooke
Teachers in Newfoundland and Labrador need more preparatory time and more training for inclusive education to work, says an expert in the field.
Gabrielle Young, a Memorial University assistant professor with a focus on special education, told CBC the province's inclusion model is rooted in good intentions, but needs better implementation.
From exile to inclusion: Special education makes big strides, but problems persist
'Nowhere to turn': Teachers left alone to deal with special needs, fed up with system
While government money is one factor, there are many others that come into play.
"It has to do with how we organize and structure our classrooms," she said. "There's many factors … As we move towards inclusive education, all teachers are special educators."
At present, a teaching degree at Memorial University requires only one course in special education.
Young said more training is necessary for teachers both before and after their careers begin.
"I would argue there should be at least a semester," she said. "Every classroom teacher could benefit from more intensive training, and that needs to continue as they enter into the teaching profession."
Ideally, teachers would also do a placement in an inclusive classroom setting, Young said, preparing for the variety of situations that will arise throughout their careers.
Cycle of 'helplessness and failure'
During CBC's Inside the Classroom forum, teachers expressed their concerns with the inclusive model. Many said they support the model, but do not believe it is being implemented with the necessary resources — such as staff and training — in place.
Schools not staffed to deal with behavioural issues, teachers say
From her experience, Young said most teachers are behind the philosophy in principle, but are frustrated with the demands.
"They believe, ethically and morally, it's a human rights issue in regards to all students deserving the best quality of education," she said. "Teachers are calling out for the supports they need in order to meet the needs of all their students."
Between five and 10 per cent of student populations have some form of learning disability, Young said. Without early support, those kids can fall into a mindset of failure.
"They don't believe they can do the work presented to them," she said. "Oftentimes for those students, the gaps become wider and wider. There is this cycle of learned helplessness and failure."
Getting to the kids early is a key to succeeding with inclusion, Young said. Most children cannot get assessments for learning disabilities until the third or fourth grade, by which time they may have already believe they are failures.
"Without earlier intervention, we are promoting a wait-to-fail model."