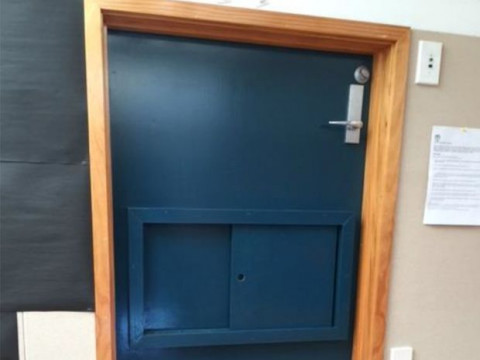 Kirsty Johnston
Children were repeatedly locked in a darkened, cell-like room at a primary school as punishment for bad behaviour.
Education officials launched an investigation at Miramar Central School in Wellington after a behaviour therapist found a 11-year-old disabled boy alone and distraught in the cupboard-sized room, with no way to get out.
The boy, who is autistic with the mental age of a toddler, was one of at least 10 children - mainstream and special needs - put in the "time out" room within the past year, largely without parent knowledge or consent.
While the use of the room was not illegal, it was "outmoded", the investigation found.
The school says it will phase out the use of the room, however, the boy's mother said more accountability was needed, and was planning to go to both the Ombudsman and possibly police.
"I'm horrified a school would do that," she said. "My son is petrified of the dark and so this would have been a truly frightening experience for him."
The mother, who the Herald has chosen not to name to protect her child's privacy, said the use of the room was not only cruel, but dangerous, and she believed the school had been dishonest with parents.
"It's their dirty little secret. There's a total lack of transparency," she said.
The mother found out about the room in July, after her son's behavioural therapist, Shawna Chow, went to collect the child from a playground at the school's Special Needs Unit but couldn't find him.
"I asked if anyone knew where he was and a teacher aide told me he was in 'time out'. I've been at that school five years but I'd never heard of it," she said.
When back inside, Chow could hear the boy calling out "I'll be good, I'll be good", but couldn't see him.
"I was running from room to room saying 'yes you're good, it's ok, it's Shawna'. Eventually I found a door but I couldn't open it."
By the time a teacher aide unlocked the room the boy had been in there at least 10 minutes.
"When I looked inside the room was dark. There were no lights on. It was small like a closet," she said.
"I asked the child 'are you ok?' And he said 'no' so I gave him a hug."
Chow said she felt the school did not understand the child's disability or the consequences of what they'd done, which she said would have a lasting psychological effect.
The boy's mum said he still has night terrors. She has pulled him out of the school, but he sometimes still says "no dark room" and refuses to have the bedroom or bathroom door shut.
The Ministry of Education investigation found he had been in the room at least 13 times over nine days. At least 10 other children had been in the room since 2015, for up to 25 minutes at a time.
The room measured 1.45m by 2.3m. It had an external lock, a high window, and limited natural light. According to school guidelines, a staff member was supposed to monitor students inside at all times.
An incident log said reasons children were put in the room included hitting, making a mess, disobedience, and a lack of focus. It was also used as a threat when children were misbehaving.
"Some staff saw the time out room as an opportunity for students to self-regulate, while most saw it as a consequence for an undesirable action," the report said.
The investigation said although staff had the best intentions, the room was out of date, and would not meet soon-to-be released guidelines on seclusion and restraint.
It said the school needed better transparency, as most parents still did not know of the room's existence and it wasn't on behaviour plans.
Principal John Taylor-Smith said the room was created as part of a remodel in 2002, with lots of other schools installing "time out" rooms during that period.
"If students are biting or punching or things like that they are put in the room for a short period of time. It's only used when a child is a danger to themselves, other children or staff," he said.
Taylor-Smith said he accepted the room was outmoded. He said he thought the issue was largely one of "miscommunication" and the school would take responsibility for that with an email to parents set to go out over the weekend.
IHC director of advocacy Trish Grant said there was no way any child should be locked in a room, particularly a disabled child.
"It is clear that teachers and schools may need ongoing training and support to get this right," she said.
"It is also clear that Government should be sending strong messages about what is lawful and what isn't to ensure accountability about these and other inappropriate practices."
The Ministry of Education's head of special education David Wales said it strongly recommended the school discontinue the use of the room, as it moved towards getting rid of all such practices nationwide.
"We are very concerned about any student being repeatedly locked in a time out room. We are continuing to monitor the situation carefully," he said.
The ministry had taken a number of actions, including appointing an educational psychologist to work with the school. It could not find any records showing it had sanctioned the use of the room.
Education Minister Hekia Parata said the case was extremely concerning and the ministry was working with the school to ensure it didn't happen again.