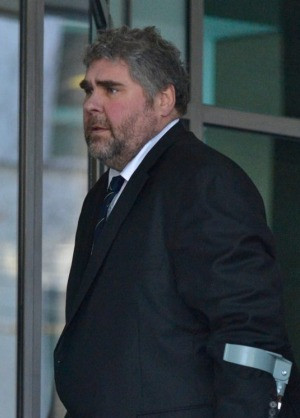 A manager at Victoria's biggest disability services provider Yooralla has been jailed for four years after he was caught by a hidden camera preying on a vulnerable cognitively impaired woman in his office.
County Court judge Paul Grant said Timothy Hampson, 52, had abused his position of trust in a shocking way.
"You put your own desires above your obligation to respect your victim's rights, her autonomy and personal dignity," the judge said on Monday when jailing Hampson for four years with a non-parole period of two-and-a-half years.
The victim was 29 at the time and has autism and a reduced intellectual capacity.
Judge Grant said Hampson was caught on camera asking the victim if she wanted a hug before telling her to turn off the lights.
When she asked why, Hampson told her: "So no one can see in." Hampson then went to lock the door before abusing her.
The judge said Hampson later told a psychologist he had been under significant financial pressure at the time as a result of  renovations to the family home, holidays and presents, and his wife of 14 years suffering from severe depression.
Hampson claimed his wife was angry and negative while his victim was a gentle, caring and positive person.
The judge said the victim's parents felt guilty over what happened to their daughter but there was no way they could have anticipated that she would be abused in such a respected facility by a man who appeared to be honest and upstanding.
Judge Grant said the victim's parents had been left sad and devastated by Hampson's offending and would never place her in the care of a service provider again.
The camera was set up on May 16, 2014, after one of Hampson's work colleagues stumbled across him and the woman adjusting their clothing one Friday afternoon, before she told Yooralla workers in April how she and her "special friend" had "our pants down".
Hampson was also caught on camera pocketing $400 in cash from a security box containing Yooralla funds.
Hampson initially claimed he did nothing wrong to the woman, who has the intellect of a child and had been a client for more than 10 years, because she had given consent.
He had sex with the woman about four or five times between January and May 2014  but claimed she had often initiated the sexual contact.
Hampson pleaded guilty to two counts of sexually penetrating a cognitively impaired person, one count of indecently assaulting a cognitively impaired person and one count of stealing $1310 from Yooralla.
Hampson, who had been Yooralla's manager of a support services centre for disabled clients for 12 years, later told police he and the woman developed a strong friendship through her regular visits to his office.
Hampson has since been sacked and his wife has left him.
Outside court, Yooralla chief executive Sharene Devanesen said the organisation was very sorry for the abuse that had occurred.
Ms Devanesen said Yooralla deeply regretted the impact Hampson's offending had had on the victim and her family and hoped his jailing would in some ways help them.
Hampson's sentencing follows the release last week of a report by Ombudsman Deborah Glass revealing how Victorians with a disability are not reporting abuse because they fear they will not be believed, no action will be taken, or they will be punished.
Ms Glass found that the system managed abuse reports inconsistently across different agencies and was confusing for people trying to report abuse.
Her inquiry was prompted by revelations last year by Fairfax Media and the ABC's Four Corners into the serious mishandling of several rape and sexual assault cases at Yooralla.
from http://www.theage.com.au/victoria/former-yooralla-manager-jailed-for-sexual-abuse-of-autistic-woman-20150629-gi0di1.html