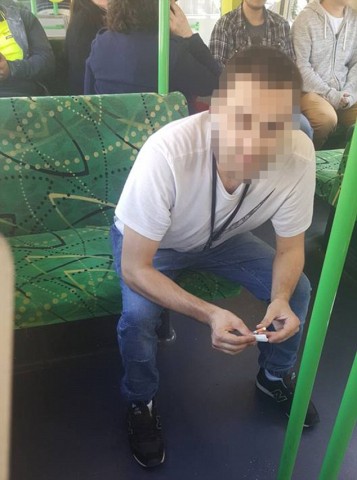 Melbourne woman confronted man on train for intimidating passengers
The woman took a photo of the man she claimed was harassing women
She claimed she stared the man down and posted the photo on Facebook
But the man is reportedly autistic and simply loves to high-five strangers
He reportedly received countless death threats and verbal assaults online 
By DANIEL PETERS
A man who was publicly shamed online for being a 'festering turd of a human being' that 'intimidated multiple young Asian women' by waving his hand in their faces on a Melbourne tram is reportedly autistic and loves to high-five strangers.
The man's face was plastered across social media when a woman took a photo of him and wrote a status labelling him a 'low life', 'creep' and 'loser' on Facebook.
Her expletive-laden post attracted 80,000 likes and close to 10,000 shares in a matter of hours, with many people leaving aggressive messages threatening violence and revenge on the alleged harasser for his 'dominating' behaviour.
A man (pictured) who was publicly shamed online for 'creeping' on young Asian women on a Melbourne tram is reportedly autistic and may have simply been trying to high-five them
But multiple sources have since told Daily Mail Australia that the man is a regular commuter along the city tram line who is reportedly autistic and 'wouldn't hurt a fly'.
'I have seen him on the same tram for years along Swanston and Elizabeth street,' one man told Daily Mail Australia.
'He exclaims and utter noises very suddenly at times and he does hover over people but he never touches anyone without asking.'
The man's face was splashed across social media in an expletive-laden rant by a woman who claimed he intimidated four women on the tram. Her full post is linked below
Not everyone agreed with the woman's claims - with some writing that the man was in fact a regular commuter on Melbourne trams who has autism and 'wouldn't hurt a fly'
'I don't believe he singles out women in that regard either, he's done it to me before and I have told him to leave me be politely and that he did.' 
'He likes getting high fives from folks, most people ignore him but at times they do give him one.'  
 This man was trying to get a woman to give him a high five ... he has a disability
Another person pleaded with social media users to stop calling the man a predator.
'This man was trying to get a woman to give him a high five and I know this man he has a disability,' she wrote online. 
'This man is disabled... A simple reminder of personal space and friends vs strangers and he understands.'  
'The post is now calling for women vigalentes (sic) to hunt him down, men want to find him and 'smash the c***' (and) people are declaring that disabled people should be locked up.' 
The controversial incident was claimed to have happened on a Melbourne Tram (Stock Image) 
One woman (above) claimed that the viral post led to people threatening violence on the man
The woman's original post, which has since been taken down, described how the young female passengers were allegedly made to feel afraid by the man's actions. 
'You went and sat down next to the other young Asian woman and when she got up immediately and moved seats, you followed her,' she wrote.
'You sat down across from her, legs sprayed across the seat in an attempt to invade as much as her personal space as you could while leaning towards her.
'I watched you, and I watched her face mingle with disgust and also fear. This was the second woman in the space of five minutes you had made feel unsafe.'
'You made her feel uncomfortable and unsafe, and you violated her personal space because you felt entitled to it,' she said.
Social media has remained divided over the story, with some people suggesting that the man's mental condition does not excuse the way he reportedly behaved on the tram.
Others have shamed the woman for taking a photograph of his face without consent and then publishing it online, facilitating discussion that quickly turned aggressive.
Daily Mail Australia has contacted the woman for comment.    
The woman's original post, which has since been taken down, described how the young female passengers were allegedly made to feel afraid by the man's actions