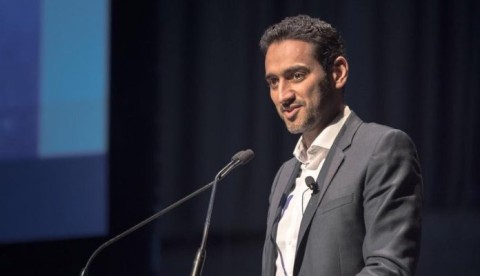 Jill Slater
Waleed Aly has spoken openly about what it's like raising a child with autism and why he thinks Pauline Hanson's controversial suggestion that children with autism should be removed from mainstream classrooms won't work.
Waleed and wife Dr Susan Carland share two children, including nine-year-old son Zayd, who was diagnosed with autism spectrum disorder in 2011.
The Project host explained some of the misconceptions Ms Hanson and others have about autism during an interview on the Hit Network's Carrie & Tommy radio show.
"For us, it showed up in his unbelievable obsession with trains," he told hosts Carrie Bickmore and Tommy Little. "It showed up in early years when we would tell him off and he would look at us blankly like, 'Why are you making these noises?' He wouldn't pick up the social cues."
Aly described his son as high functioning, and that it was a relief to hear his son's diagnosis, saying that "it's easy to handle once you know what you're dealing with".
"I actually thought, 'Oh great, the world makes sense now'. And now we know exactly what to do, we can handle this. And he's thriving, he's coping really well," he said. "But I can imagine for other parents it wouldn't be like that at all. Because when you have a diagnosis, what that triggers in a lot of people's minds is this is lifelong and I suppose it kind of is."
Waleed Aly and Dr Susan Carland ~ Image Source: Instagram/Susan Carland
Aly said the major issue with Hanson's suggestion is the differences between each child that falls on the spectrum.
"One of the problems with autism — and one of the problems with what Pauline Hanson said about it yesterday — it's not that it's never true that it can be really difficult for teachers. But it's that the experience of autism is so diverse that you can't possibly categorise it in this way," he said.
The One Nation leader backed the federal government's plan to provide a funding boost to education but offered her own opinion on how the money should be spent — by removing children with "disabilities and autism" to a separate school so that neurotypical children would have a better chance to complete their studies unhindered by distractive behaviour while giving the children with disabilities or on the spectrum more support that meets their needs in their own segregated schools.
Aly said that special needs children aren't a problem that requires a quick 'one-size-fits-all' fix, nor should they be removed from mainstream schooling.
"There's an easy way around this. The underlying thing — and this goes for what Pauline Hanson's talking about as well — there are very easy fixes for a lot of these sorts of things," he said. "It's when you lump everything together and try to turn everything into a problem that is to be solved somehow or quarantined from things that are not a problem, that's when I think life starts to get difficult for people."
Waleed Aly and Dr Susan Carland ~ Image Source: Instagram/Susan Carland
Aly said the challenges of having a child with autism in a classroom can't be generalised. He said each child diagnosed with the condition is affected in extremely different ways.
"There's this saying that goes around among people who either have children with autism or are experts in the area and they say: 'If you know one person with autism, then you know one person with autism'. It's incredibly diverse," he said.
While some kids find it difficult to speak and others are distressed by noise, the father-of-two said his son wanted a lot of physical contact when he was younger.
"They want constant physical contact because it's something about the wiring in their brain — that's how they process the world. That's how they understand where they exist in space is to constantly have things touching them," he said.
"So he would jump off couches just so he could hit the floor really hard because he liked the sensation — landing on his feet, but he wanted that sensation. He used to ask us, can you cover me with pillows and just lie on me. He just loved that pressure."
The Gold Logie winner and father of two said that there are "a million different ways" for kids with autism to learn, which is why the call to have them all removed from classrooms doesn't make sense.
" … For some, it can be actually quite difficult then to be in a classroom environment. And they might need special schooling. But for others, if they've got an aid, or even if they've just got a teacher who's just a bit switched on and attentive to it, they're fine and they thrive. Because often — and this is the case with what used to be called Aspergers — they're actually really, really good at school. In some cases, they can learn in ways other kids simply can't. So it's a really diverse set of experiences."