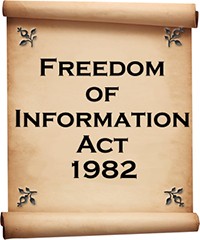 Dear Mr Buckley
Please find attached correspondence acknowledging your request under the Freedom of Information Act 1982.
Please contact me if you require the attached document in an alternative format.
Kind regards
GA
Paralegal
Legal Branch
National Disability Insurance Agency
---
From: Bob Buckley (A4 Convenor) [mailto:convenor@a4.org.au]
Sent: Tuesday, 21 March 2017 12:07 AM
To: foi <foi@ndis.gov.au>
Subject: Freedom of Information request: information about Applied Behaviour Analysis for autistic children
The FOI Coordinator
National Disability Insurance Agency
GPO Box 700
Canberra ACT 2601
Dear sir/madam,
I request a copy, under the provisions of the Freedom of Information  Act 1982, of all information, advice or instruction that the National Disability Insurance Agency provided to any NDIS Planner relating to Applied Behaviour Analysis (ABA) for autistic children
aged 5 years or older; or
who attend school.
Information that is particularly relevant may have been given to NDIS planners in the ACT in February 2017.
I would prefer to receive electronic copies of the documents that you provide in response to this request.
Please contact me via email or by telephone (on 04xx xxx xxx) if you want further information or clarification about this request. Please contact me if you need my postal address.
--
Bob Buckley
Convenor, Autism Aspergers Advocacy Australia (A4)
website: http://a4.org.au/
A4 is the national grassroots organisation advocating for autistic people, their families, carers and associates. A4 is internet based so that Australians anywhere can participate.
"The first step in solving any problem is recognising there is one." Jeff Daniels as Will McEvoy in The Newsroom.
---
see http://a4.org.au/node/1473 for the (non-)outcome of the FoI request.