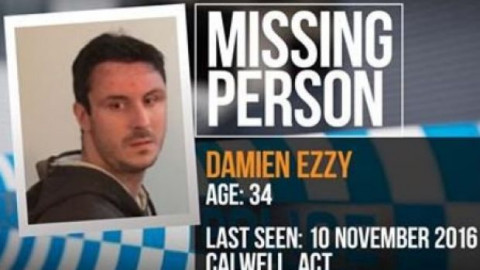 The aunt of Damien Ezzy says his family has been touched and moved by the community's efforts to find him after he was discovered safe and well on Saturday.
Australian Federal Police search and rescue patrols found Mr Ezzy, who has autism, near the side of Woodcock Drive, Gordon, about 9.30am after a woman reported seeing him near a pond.
Police said Mr Ezzy was found with another woman, who did not have a phone and decided to walk with him until she could get help because "he seemed vulnerable".
Paramedics determined Mr Ezzy was in good health "given the circumstances", police said.
He was last seen at his Calwell unit at midnight on Thursday and was reported missing after one of his carers found his bed empty shortly before 9am.
Mr Ezzy was under 24-hour care until he moved into ACT Housing earlier this year where he receives part-time disability support.
The family had previously spoken out about their fears for Mr Ezzy's life, saying he was living in a unit where he received support from carers and had a range of health issues such as obsessive compulsive disorder and anxiety. In a statement, Mr Ezzy's aunt, Vida Thomson, said the family had been praying for Saturday morning's discovery.
"We have been so deeply touched and moved by the love and care that the community and the search teams have shown towards Damien," Ms Thomson said.
"To the community who helped and to everyone who searched for Damien, thank you, you are our heroes."
Ms Thomson singled out the emergency services crews, the staff of the Calwell shops where Mr Ezzy had been seen on the night of his disappearance, and the two women who had helped police find him on Saturday morning.
AFP Search and Rescue officer-in-charge Station Sergeant Steve Cooke said police could not have found Mr Ezzy without public help.
"We are extremely grateful to the public, to the woman who spotted Damien and the woman who was helping him," he said.
"The support from the emergency services and the SES volunteers was invaluable.  So many members of the public wanted to help and we'd now encourage them to consider contributing to the SES."