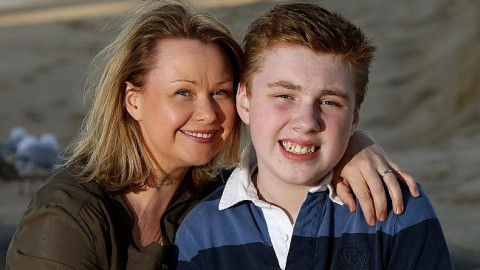 Jane Hansen
PARENTS of autistic children are spending millions of dollars a year on bogus treatments in the hope of a miracle "cure".
Now there are fears the National Disability Insurance Scheme will be ripped off by these charlatans, who are ­already preying on desperate parents.
Diane Verstappen from Aspire Early Intervention, an evidence-based program, said parents with self-managed funds from the NDIS would be a prime target.
Under the NDIS, parents put in a three-month treatment plan, which must be ­approved before money is released, and they have to ­supply results before more money is forthcoming.
However, some parents will be tempted to throw away that plan and waste the NDIS money on "cures" — putting at risk the future funding for their autistic children.
And then there are those who will follow the NDIS program but become tempted to spend their own money on the quacks.
"Acupuncture, naturopathy, biomedical doctors, ­vitamin supplements, osteopathy — you name it, people will try it," Ms Verstappen said.
"I think it will be a ­massive rip-off."
Experts warn that charlatans can be very convincing and are already gearing up to help gullible parents game the system.
Nicole Rogerson, the CEO of Autism Awareness, runs the Lizard Centre, an early intervention service ­offering applied behaviour analysis, a scientifically proven effective treatment.
Ms Rogerson set up the centre in 2002 after travelling the well-worn path of miracle cures with her now 20-year-old son.
A4 editor's note:  At this time, the NDIS is still developing it's Early Intervention model for autistic children. The description above it not what happens in NDIS trial sites, and is unlikely to be how the NDIS offers Early Intervention to autistic children. 
"You're so vulnerable to quack therapies. I did some weird and wacky stuff, but you'd do a deal with the devil if you thought it would help your child," she said.
She tried auditory integration therapy twice.
"I spent $8000 because I read it only worked if you did it twice," Ms Rogerson said.
She knows all the options being peddled because parents at her centre are still ­trying everything.
"The hyperbaric chamber, chelation, which is ­actually dangerous, connection therapy, dietary interventions, mud baths, vitamin regimes … but not only are these options a waste of money, they're also a waste of time spent away from therapies that can help," she said.
Ms Rogerson hopes the NDIS will implement checks and balances.
"They have to make sure they put fences around it and make sure parents are not being exploited by therapies not supported by evidence."
Charmaine Fraser jokes she could write a book called "20 million ways to cure your child's autism and still end up with a child with autism".
Since her son Jack was ­diagnosed aged two, she, like many parents, embarked on finding a cure, only to be ­poorer for the search.
"You do have to be able to justify what you spend it on (NDIS funding) but there is a lot of potential for people to be led astray," Mrs Fraser said.
"They are all expensive but there is no cure. I think a lot of people prey on that vulnerability. The reality is that ­people want a miracle cure and when I look back I ­acknowledge I was in grief, it was denial, but I've got nothing to lose except time and money, of course."
Holly Hughes, whose seven-year-old son Freddy has autism, said "a cottage ­industry has sprung up around autism. It drives me crazy, but parents need to be told what is evidence-based. We pay a lot of money to people who don't produce results."
from http://www.dailytelegraph.com.au/news/nsw/autism-parents-targeted-by-pse...