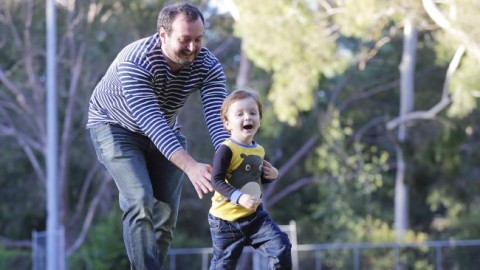 Children who do not meet the ­criteria for autism are being diagnosed with the condition, as desperate parents take their kids to private practitioners in a bid to gain a label, according to frank ­admissions from health professionals.
For the first time in Australia, the Co-operative Research Centre for Living with Autism — a nat­ional collective of governments, universities and not-for-profit ­researchers — surveyed more than 170 pediatricians, psychologists and other health professionals who conduct autism assessments for a study that has ­revealed the standard of diagnosis varies wildly across the country.
The research was funded by the federal Department of Social Services.
Doctor-shopping, diagnostic fudging and even the flagrant disregard of the latest autism criteria are all features of the state and territory systems in the absence of "gold-standard" national standards, the report says.
Paediatricians or psychiatrists can diagnose autism in some states while others require multidisciplinary teams — including a medical professional, psychologist and speech pathologist — to arrive at diagnoses. But even then methods vary between the groups.
One third of clinicians said they did not include measures of development, cognition and language in their autism assessments.
"A small number of health professionals reported having diagnosed autism spectrum disorder when an individual does not meet criteria for the disorder, usually to ensure that the individual can ­access intervention or support services," the report says.
The report, which relies on self-reporting from clinicians, also provides the first serious evidence of doctor-shopping among parents who, having an autism diagnosis rejected for a child, move on to ­another team for a second chance.
More than 80 per cent of ­respondents reported that families had asked for a diagnosis from their practice after a prior assessment that did not result in an ­autism diagnosis, although 57 per cent of these said this was rare and 31 per cent said this happened "occasionally".
One of the report's authors, Andrew Whitehouse, told The Australian: "I see parents who have children with developmental difficulties and they need help. If ­receiving a diagnosis can get them help then they will pursue that with vigour, I can't blame them.
"This is really the first opportunity we have had to take a step back and look at our diagnostic standards for autism and it is clear we are not meeting the standards."
Professor Whitehouse said the centre had developed a "world-first" graduate certificate in autism diagnosis that would properly train health professionals at the University of Western Australia.
"Its importance cannot be ­underestimated, this is the course that will start improving the ledger for autism," he said.
Currently, estimates of the prevalence of autism in Australia put it at about 1 per cent of the population, although Professor Whitehouse said the "bald fact is we really have no idea".
In the US, the number of eight-year-olds with autism has almost doubled in a decade to one in 68 while a recent study of all school-aged children in South Korea notes the prevalence of ­autism among seven to 12-year-olds is one in 38.
Trends have been rising around the world, but debate has revolved around whether the condition is simply being diagnosed more ­accurately or whether people are pushing for the label to access ­services.
In 2014-15, the surveyed Australian clinicians made 6960 ­autism assessments and 58 per cent (4037) resulted in an actual ­diagnosis.
Those in rural and remote areas had to wait twice as long for a diagnosis compared with their peers in major cities.
Diagnoses are more likely in the private sector and some ­parents are paying thousands of dollars to avoid the waiting lists in the public sector, which can stretch up to two years in some ­jurisdictions.
For Alain Junkermann and his wife Angela Greenwood, the journey to have now 3-year-old son Tristan diagnosed was long, but the resulting transformation after early intervention therapy had been dramatic.
"We first noticed the fact Tristan wasn't speaking at two years old, not a word, and he was clapping his hands, being a little bit restless as well," Mr Junkermann said.
The path to diagnosis required pediatricians, two assessments and a battery of tests, but the result was the family could get Tristan into an applied behaviour analysis therapy for 10 hours per week, more when they could afford it.
"We are waiting very much for the National Disability Insurance Scheme to come here; it might be the opportunity to give more access for any child with a disability to the right treatment," Mr Junk­ermann said.
Autism Awareness Australia chief executive Nicole Rogerson said the report showed the need for a "rigorous and national" diagnostic standard, echoing the remarks of Professor Whitehouse.
"And we do need to have a ­national debate about what autism intervention looks like in very young children who present with classic autism as to what the NDIS might deliver for older children who have a different, high functioning presentation," she said.
from http://www.theaustralian.com.au/nationa…
The report can be downloaded from http://www.autismcrc.com.au/download/87…
There is a media release here.
Autism diagnostic standards fall short of the mark
Few would disagree that the mark of a successful health and medical system is its ability to respond quickly and effectively to improve the well-being of the population it serves.
So much of achieving this goal comes down to early and accurate diagnosis.
Consider the example of cardiovascular disease, which is among the most common causes of chronic ill-health in Australia. In many cases, cardiovascular disease is preventable or treatable, but these positive outcomes rely entirely on identifying the condition accurately and planning treatment accordingly. Anything less will compromise the long-term wellbeing of the individual.
While developmental conditions such as autism spectrum disorder are very different in nature, the underlying principles of care are exactly the same. Positive outcomes are irrevocably tied to early and accurate diagnosis. Unfortunately, this is a mark that Australia is far from meeting.
A report released today by the Cooperative Research Centre for Living with Autism and the Department of Social Services shows the stark reality of just how far away we are.
The report surveyed over 100 health professionals from around Australia who provide autism diagnoses. The main finding was the considerable variability in how diagnostic assessments are conducted across Australia.
A large number of health professionals reported using the 'gold standard' method for diagnosis, which involves an expert team using well-recognised standardised assessments. However, a substantial minority of health professionals employed less rigorous diagnostic approaches that didn't include well-recognised assessments, multiple team members and observation across different settings. These elements are often critical to make an accurate diagnosis of autism.
The report also revealed the obstacles that often stand in the way of an autism diagnostic assessment. A wait list time of over 12 months was not uncommon, and the cost of this assessment could be over $2,500.
It is impossible to reconcile the findings of this report with the stated aim of the health system to respond quickly and effectively to improve the wellbeing of the population.
There are now dozens of examples of where the Australian community has acted to reveal the vast potential of individuals on the autism spectrum. Governments that once favoured bandaid solutions are now investing in people with disability through the immeasurably important reform of the National Disability Insurance Scheme. An employment sector that was once blind to the huge capacity of individuals on the autism spectrum, now prioritises these individuals because of the skills and strengths they can bring the organisation. A community that was once characterised by silence is now a thriving collaboration of vocal advocates.
Substantial research has shown that early diagnosis and therapy leads to the most positive outcomes in terms of education, employment and independence. The corollary is that without a uniform system of early diagnosis – which the report highlights is the case in Australia – we are not providing the best start to life.
Perhaps most importantly, the solution for Australia is far from intractable. The development of national, standardised guidelines for how autism is diagnosed will have a massive and positive change that will benefit the whole of Australia. This will provide individuals on the autism spectrum and their families with certainty about a diagnosis, help guide clinical decision making, and give the more than 1% of Australians who live with autism the best opportunity for a happy and healthy life.
Early and accurate diagnosis is what we demand for every other condition, and it's what we must demand for autism. Anything less will be short-changing Australia's future.