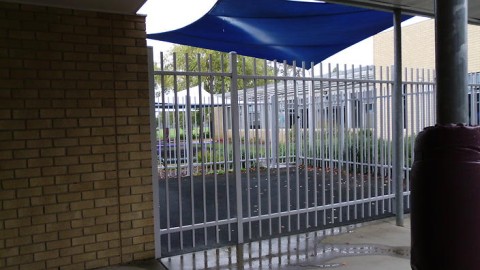 By Sacha Payne
Disability advocates say revelations of a cage built for an autistic child at a Canberra school are just the tip of the iceberg.
The Principal of the school, which cannot be named due to privacy reasons, has been stood down as an investigation is launched.
The cage at the Canberra school was exposed following a complaint to the Australian Human Rights Commission.
Images obtained by SBS show what some schools use as so-called withdrawal areas for autistic children.
Disability Advocate Julie Phillips said autistic children were routinely restrained and secluded from other students.
"I've heard of cages being used outside, there's plenty of them and that have occurred in special schools over Victoria," she said.
"I've also heard of and seen photos of what are referred to euphemistically as time out rooms, which are simply carpeted or padded empty small rooms which they use to lock people up in response to challenging behaviours."
Ms Phillips said the cage is not the worst example she has heard, as it least it let in light.
"I've had clients (with) children that have been locked up in the dark, in small areas, bolted from the outside, not knowing how long they would be in there or if they would get out."
The Federal Opposition's Kate Ellis said she was shocked by the cage revelation.
She said all students deserved to be recognised as learners and supported to achieve their best.
Federal Education Minister Christopher Pyne said on Twitter he was disturbed by the story and supported an investigation.
Debra Costley, from Autism Spectrum Australia said the use of seclusion was not uncommon.
But she said there were other ways.
"There are some strategies that all teachers could put in place in their classrooms tomorrow that would make it a much friendlier environment for all children."
Julie Phillips said many teachers just don't know how to handle autistic children.
"Teachers should not be expected to have the knowledge to deal with these sorts of behaviours," she said. "What needs to happen is that experts in behaviour analysis need to brought in."
But she said seclusion could be beneficial if it was used in the right way.
"Certainly there are children that need time out in the literal sense, in that they can go to a calming area," she said.
"That could be a sensory room and you could have bubble lights and beanbags and books."