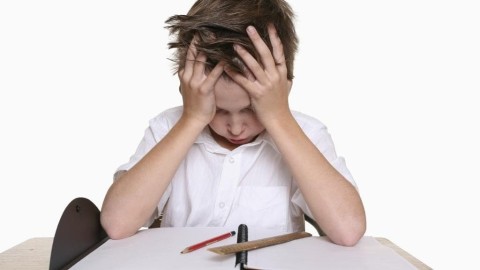 Ashley Argoon
Victorian school kids are being diagnosed with severe behaviour disorders at rocketing rates as a principal claims children have to reach "crisis level" before they get support.
The number of children funded for severe behaviour — disruptive and sometimes violent conduct — is escalating, with almost double the cases to four years ago.
A total 3,206 public school kids received funding support for severe behaviour last year, up from 1,740 in 2015, Department of Education figures show.
The rise has been attributed to an increase in community issues and greater awareness of disability.
A principal, who asked not to be named, told the Sunday Herald Sun delays in helping pupils with behaviour issues was putting students and staff at risk.
Arduous paperwork and onerous thresholds for kids to get help were driving the blowout.
Student documents were also not automatically handed from kindergartens to schools.
"We have to wait until (the behaviour) becomes destructive so we can put some support around them," he said.
"Prep kids can spend six to 12 months until their behaviour is bad enough to get funding.
"I've seen kids in schools so violent that it takes three or four teachers to restrain them, but there's nowhere for them to go."
It comes after the Herald Sun revealed prep students had stabbed, bitten and thrown scissors at staff as pupils' violence against teachers rose 27 per cent in a year.
Australian Principals Federation president Julie Podbury said more than 15 per cent of students had a learning disability that required support.
However, documents show less than 5 per cent of students were funded.
"There's an increasing number of challenges for our school leaders doing the best they can," she said.
"We don't know what's causing this but we think there's some parenting issues, some environmental and chemical issues, dietary issues and social issues with kids on technology far too early."
Ms Podbury said there were "many schools self-funding" extra support for children who didn't meet the threshold.
A principal claims children with severe behavioural disorders have to reach "crisis level" before they get support. Generic image: iStock
PSYCHOLOGY SESSIONS FOR PRINCIPALS
COSTLY BILL FOR ATTACKS ON TEACHERS
TEACHER ASSAULT ON THE RISE
Victorian Association of State Secondary Principals president Sue Bell said the "increased level of trauma we're seeing in young people is huge".
"We seem to have a very high incidence of family violence in Victoria, and the incidence of drug use is of real concern," she said.
She said lengthy wait lists for psychologists and requirements to reapply for funding for a primary child moving to secondary school added further delays to giving at-risk kids the support they needed.
Aids allocated to primary children also didn't transfer with them to high school even though it was a time of heightened risk.
"For some of these kids with a behaviour disorder who want to control their environment, it's a potential trigger for them," Ms Bell said.
Monash University lecturer in inclusive education Dr Kate de Bruin said schools could have "a profound impact" on children with behavioural issues.
She said a primary campus in the western suburbs had made changes after it noticed the ice epidemic hitting families was impacting children's' behaviour.
Senior Research Fellow at The Centre for Independent Studies Jennifer Buckingham has told Sky News recommendations made ...
"At the beginning of the school day, the principal will say hello to the kids at the gate," she said.
"If the kid comes into the gate with highly escalated behaviour, someone checks in with them.
"It's proactive, rather than waiting for an escalation."
More than $900 million was allocated for 27,000 Victorian students under the Program for Students with Disabilities this year, up from $659 million for 23,000 students in 2015.
It funds conditions including physical and intellectual disabilities, autism and severe language disorder.
MORE EDUCATION NEWS
BOY WITH 'COMPLEX NEEDS' SUSPENDED
Education Minister James Merlino said "supporting students with additional needs and strengthening inclusive education is a cornerstone of an excellent and equitable education system".
"That's why we are delivering crucial initiatives and reforms to support students with a disability, with the Department continuing to work closely with schools to improve transitions, assessment and reporting processes."
A review into the Program for Students with Disabilities is ongoing.