Jo Abi
A furious mum has lashed out at Emirates for forcibly removing her autistic son from a flight.
Euronews journalist Isabelle Kumar boarded the plane with her family, including son Eli, 17, at Dubai airport for the trip to France.
It was during the final leg of the trip from New Zealand to Australia that the incident occurred.
Ms Kumar phoned the airline in advance to ensure they were aware of her son's needs. She'd requested the seat next to him be vacant, in case he suffered a seizure due to his epilepsy.
She shared the devastating experience on Twitter, writing, "Thanks @emirates for removing our family from your flight. Our son has epilepsy: we told you, just come 14 hr from Melbourne, got his doctor on the phone & medical clearance while still on board. He has #autism & severe learning difficulties - v traumatic."
Ms Kumor told The Guardian despite accessing the medical certificate and getting Eli's doctor on the phone, staff refused to help, nor would they talk to the doctor.
"Eli's doctor wanted to speak to the attendants but they refused to speak to her, refused to look at the certificate, and refused to listen to us about Eli's needs."
The flight attendants informed the family they would need to disembark the aircraft, threatening to call the police if they didn't.
Ms Kumar was on the flight not only with Eli, but her husband and 10-year-old twins.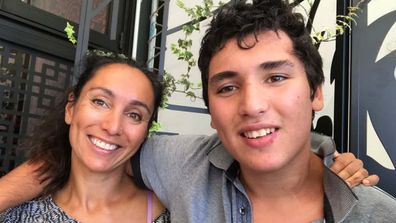 Ms Kumar says the entire family was distressed by the incident. (Isabelle Kumar)
"The children were crying, Eli was really distressed, he was biting his arm which is how he copes with stress, holding his head in his hands," she explains.
After the family left the plane, they claim they were "dumped in an airport" and had to battle to get to a hotel.
The journalist took to Twitter to complain about her treatment by Emirates which, she says, is when the company began to attempt to meet the family's needs.
A different staff member organised for the family to fly to Geneva the next day, eventually making it home.
However when they arrived, the frustrated mum says Eli had a seizure which she attributes to "exhaustion and lack of sleep".
RELATED: Everything you've ever wanted to ask someone with autism
CEO of Autism Awarness Australia, Nicole Rogerson, tells 9Honey travel can be very difficult for some people on the autism spectrum.
"It seems this family went to an enormous amount of trouble to plan ahead and ensure the flight's success," she says. "The fact this airline failed them so badly is shameful."
Ms Rogerson says she "can't reiterate enough the level of distress boarding, then unboarding this young man would have caused".
"He would have been so confused and upset.
"The entire family were essentially being publicly rejected because of their son's autism," she adds. "A shameful act by airline staff in desperate need of more training and awareness."
Ms Kumar told 9 Honey the family goes to great lengths to plan ahead before travel.
"Given Eli's condition it is really helpful for airlines if it is at all possible if the flight is not full is too block book us an empty seat next to Eli," she reiterates.
"It gives us a bit more space to look after him and if he has a seizure give him space to rest. Airlines have advised us to ask for this. We did with Emirates previously and they were helpful.
"This time however the staff in the plane bristled at the word 'epilepsy' and asked us for a medical certificate saying we might have to leave the flight.
"I panicked and couldn't remember where I had put the certificate. I called Eli's doctor in France she was ready to speak to airline staff to allay their fears. She immediately wrote an email stating Eli was fit to fly.
"But for a reason I still don't understand Emirates staff were not prepared to listen to us, speak to our doctor or accept the certificate and were adamant that we had to leave the flight. When we resisted they threatened to call the police. Eli was very upset, did not understand what was going on especially as we had been explaining that we we were going to have a long plane ride.
"He was really distraught at getting off the plane. We got off the plane and to our surprise were met by paramedics! They examined Eli and they said he was fine. The plane was still on the runway but they were not going to let us back on.
"We then spent about six hours stranded in the terminal trying to work out what to do. We received the bare minimum of help from Emirates staff."
She says nobody on the plane came to their defence.
"I am the president of an autism charity in France -- Autisme Ambition Avenir -- and one of our main goals is to raise awareness about autism otherwise mind sets won't change ."
An Emirates spokesperson told The Guardian they were "very sorry for any distress and inconvenience caused to Ms Kumar and her family," however chose to defend their employees.
"Such situations are usually difficult for operational staff to assess, and they opted to act in the best interest of our passengers' safety as well as on advice from our medical team," the spokesperson said.
"Our customer service team has been in touch with the family, and we have offered them a complimentary hotel stay while in transit and re-booked them on another flight departing on 26 July."