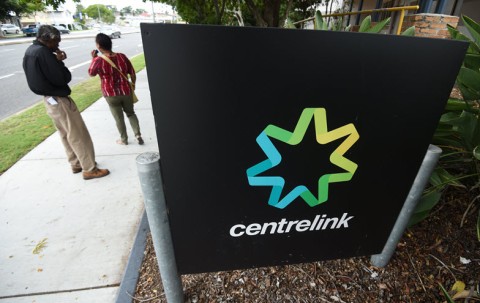 Jeremy Poxon, Media Officer for the Unemployed Australian Worker's Union
Record numbers of Disability Support Pension applicants are having their claims rejected, often against the explicit advice of doctors. With nothing left to lose, some are choosing to fight.
After two years of failed applications for the Disability Support Pension — as well as numerous appeals — Quang Huynh, a 30-year-old Dandenong man, decided he'd had enough.
Rather than deal with the DHS' confusing and overly bureaucratic appeals process one more time, he instead turned up at his local Centrelink office, hoping to finally prove once and for all he was indeed "disabled enough" to receive the benefit.
"It was a pretty farcical scene," Huynh tells Crikey. "I stumbled and shuffled around the office, waving my medical certificates at their officers."
This was no mean feat. Huynh, who is blind in his left eye from severe diabetic retinopathy, also has serious heart, liver and kidney conditions that routinely land him in hospital. According to his doctor's notes, he finds it difficult to walk more than 50 metres safely.
"But, they [Centrelink] didn't even look at my doctor's statements. One lady said, 'I can see you walking — if you can walk, you can find work.'"
As reported by Crikey last November, Huynh is one of thousands of Australians with a disability who are being unceremoniously rejected from the DSP and forced into Newstart — an increasingly punitive scheme which imposes extensive job search obligations for nearly 40% less pay.
[Disability support plummets as government turns up heat on the vulnerable]
Delegitimising people's disabilities has become one of our government's most determined budget savings drives. In the 2016-17 financial year, the rate of approved claims dropped by more than 50%, with 70,000 claims rejected. As it stands, the grant rate for DSP applicants is now at its lowest on record — around 15% of applicants are currently making successful bids.
According to The National Social Security Rights Network (NSSRN), DSP claimants' medical evidence is routinely ignored by Department-appointed assessors. In a report released last month NSSRN revealed that, in 85% of cases they looked at, assessors didn't even contact claimants' doctors before making rulings against them.
Robert Kalsbeek, a 62-year-old from Geraldton in WA, told Crikey that a Centrelink psychologist ignored medical evidence provided by his GP, and ultimately denied him a DSP "because she watched me bend over and pick up a piece of paper".
Kalsbeek suffers from chronic fatigue and a serious spinal injury, as a result of a work-related incident that cut his professional life short. Subsequently, he has also been diagnosed with post-traumatic stress disorder, anxiety and depression. His file was referred by the psychologist to a DHS-appointed occupational therapist, who, without meeting or phoning him, judged that he had the ability to work 15-22 hours a week and thus wasn't entitled to a pension. Instead, he was forced onto Newstart payments.
Kalsbeek immediately appealed this decision — only to be rejected again eight months later by two new assessors. He then lodged a complaint with the Perth Administrative Appeals Tribunal. He describes the lengthy and convoluted process of fighting Centrelink's judgements as an "ordeal" that greatly exacerbated his mental illness and quality of life. 
Victoria Legal Aid (VLA) — the leading provider of legal services to Victorians with disability and mental illnesses — are helping and advising innumerable clients like Kalsbeek who are experiencing acute distress caused by DSP rejections.
In a submission to a parliamentary inquiry into the DSP, VLA stated that "better decision-making by Centrelink at an earlier stage would reduce unnecessary hardship to people experiencing disability and would reduce costs to the community."
Without sufficient expertise, many Centrelink assessors are making decisions that can dramatically impact people's lives. So we have a situation where, for example, a psychologist can overrule a GP's spinal injury diagnosis.
Vulnerable people like Huynh and Kalsbeek are being forced to spend years of their lives navigating an unforgiving system of confusing and stressful processes to "prove" and "justify" entitlements.
12 months after making his initial claim, the Adminstative Appeals Tribunal overturned Centrelink's decision against Kalsbeek, citing the evidence that previously lay dormant in his doctors' medical reports. After finally granting him the pension, the tribunal also awarded him almost $10,000 in back-pay entitlements.
Kalsbeek is now gearing up to take on the Department of Human Services in the District Court of Western Australia. He is demanding financial compensation for being thrust into distress and destitution by a department which he contends ignored and overlooked evidence he presented in his claims.
Advocacy groups like NSSRN and VLA encourage all failed DSP claimants to make as many claims and appeals as they can. Recent figures show that the tribunal immediately reverses 20-25% of Centrelink's rulings — yet another indictment on the agency's stringent and unfair decision-making.
NSSRN have also started meeting with the DHS to help ensure people with disabilities' claims are being assessed more accurately, fairly and efficiently.
Without input from these advocacy groups, one can't help but think the government would simply continue on its merry way: stacking the odds against disabled people with ever-tighter restrictions and removing their benefits in order to "unburden" the budget.
Ultimately, these groups, as well as individual claimants like Kalsbeek and Huynh, are fighting back against a culture that puts profit before people. Indeed, they are fighting for a more dignified welfare system that doesn't scrounge savings by pushing people's entitlements ever further out of reach.
Jeremy Poxon is a freelance writer and a Media Officer for the Unemployed Australian Worker's Union.