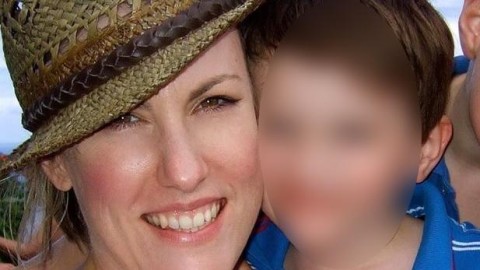 Vanda Carson & Emmaline Stigwood
A BRISBANE mother is fighting for her autistic son's right to an education in a landmark discrimination case.
This week single mum Sherri Gullickson, from Norman Park, lost her battle to have son Jonathan, 7, return to class at the elite Brisbane Boys College', which boasts it has several students in a state-of-the-art autism spectrum disorder program.
Jonathan began in Year 2 at the school in January but was expelled on August 29 for "biting and hitting" classmates in separate incidents on August 9 and August 14.
Ms Gullickson, described in court as being of "limited means", is continuing her fight, taking it to the Human Rights Commission in coming months, arguing her son is being denied his right to an education.
She is struggling to find a school place for her son pending the final HRC hearing.
Sherri Gullickson claimed Brisbane Boys' College only needed to make minor adjustments to its autism program to accommodate her son. Picture: Claudia Baxter/AAP
The school's barrister, Rob Anderson QC, told the Federal Circuit Court on Tuesday that in the upcoming HRC case Ms Gullickson would need to overcome the "hurdle" of a longstanding High Court precedent that establishes that violence "is not excused by virtue of disability".
Mr Anderson argued the BBC's autism program simply had not worked for Jonathan and the school should not be forced to "take on a student who it expressly said it can no longer cater for".
Ms Gullickson told the court on Tuesday that she moved her son to BBC after she was unhappy with his education last year at Norman Park State School, where he was "often simply put in a room by himself with a computer watching videos".
Ms Gullickson told The Courier-Mail outside court that she wanted Jonathan to have the same access to the same education that every Queensland child is entitled to, and that medical experts had found he belonged in a mainstream school and not a special school.
"Going to court is a last resort, we tried to exhaust every other avenue," she said.
Brisbane Boys' College boasts of its state-of-the-art autism spectrum disorder program.
In her HRC claim, Ms Gullickson argues BBC "has not exhausted all reasonably available options" to help Jonathan stay in school and these options "would not impose unjustifiable hardship on the college".
Ms Gullickson has offered to pay the cost of extra supervision for her son at school and asked he be segregated at play time, but Judge Vasta said it might not be enough.
"The only way to guarantee that he wasn't going to harm others would be for him to have a harness with a leash tied to another teacher so that he cannot go anywhere without that and that's barbaric," Judge Vasta said.
Judge Vasta said that even after Jonathan had been counselled and told not to assault children, he came back and bit kids.
Judge Vasta ruled it appeared Ms Gullickson's prospects of success in the HRC were weak.
"It seems to me as though this is not an expelling of the child because the child has autism spectrum disorder it is that the child presents a danger to the other students," Judge Vasta said.
Mr Anderson QC told the court Jonathan had not been suspended until he assaulted other children, which showed his expulsion was due to his violence and not his disability.
Brisbane Boys' College headmaster Graeme McDonald
Headmaster Graeme McDonald told the court he could not guarantee another incident would not occur with Jonathan, which was an unacceptable risk to Jonathan and other students.
Mr McDonald told the court the school did not have the resources readily available to supervise Jonathan at all times.
"If the child is going to behave in such a way that they are not going to listen to any person in authority how are they going to be educated?" Judge Vasta asked.
"You can't just put a student back into a class... the teacher is unable to supervise the child properly or there is a danger to the other 20 odd kids that are in that class as well?" Judge Vasta said.
Judge Vasta commented that he wondered whether the school would be "giving a child an education or ... just babysitting?"
He said Jonathan was "one of those children who needs probably an individual and specialist program which mainstream schools are just not set up at this point to cater for I suppose" he said.
But Ms Gullickson told the court that BBC told her when enrolling Jonathan that it was quite accustomed to dealing with students who ran away or kicked and screamed as they got out of the car in the morning and other severe behavioural problems.
However the court heard the school took issue with Ms Gullicksons descriptions of what was said during enrolment.
Ms Gullickson's barrister Amanda Stoker told the court that it would be very hard to find an alternate place for Jonathan at a school to start term four in a few weeks.
The court heard that before enrolling Jonathan in BBC, Ms Gullickson called several schools, including St Peter and Pauls Catholic Schools in Bulimba, Bulimba State School, Cannon Hill Anglican college, Iona college and the Anglican Grammar School (known as Churchie).
Ms Stoker told the court that it appeared that BBC did not want to put the resources into making minor changes to cater for Jonathan.
Judge Vasta said that Ms Gullickson appeared to want to scrap the entire BBC autism program and have the school run a new one totally catered to her son, a claim Ms Gullickson denies.
Judge Vasta ruled that it seemed "the school has tried to bend over backwards" to ensure Jonathan is given "a lot of latitude" because of his autism.
Ms Gullickson's lawyer Julie McStay told The Courier-Mail that cases where a parent takes action to block expulsion under the Australian Human Rights Commission Act were rare.
"I am not aware of any cases," she said.
Ms Gullickson told The Courier-Mail outside court that school principals were "playing god" in picking and choosing who got an education and therapy, and who got shunted to special school.
Mr McDonald said the school strove to provide an inclusive and safe learning environment.
"The college has extensive experience integrating and accommodating students with special needs and disability," he said.
Paula Snow has tried public, private, special education and mainstream as well as home schooling for her autistic son Kyle Connor, now 18. Picture: Claudia Baxter/AAP
Parents given conflicting advice
AUTISM is the leading disability of Queensland schoolkids, but parents are being given conflicting advice about the best place to educate their children.
Leading experts say the best outcomes for all students are in an inclusive mainstream setting but families dealing with ASD are flocking to specialised centres.
Queensland Teachers Union president Kevin Bates said teachers were trying to balance the right of every child in classrooms that were more complex than ever and schools should not be criticised for excluding students with ASD if no other option was available because of under resourcing.
Mother Paula Snow is a veteran of the system having tried public, private, special education and mainstream as well as home schooling.
Mrs Snow said son Kyle, 18, languished at Year 4 English and Year 6 maths skills throughout high school, after she could no longer home school him.
He was locked inside classrooms, bullied and not expected to do any work.
"We wanted him to have the opportunity to learn to the best of his ability," she said.
"They teachers said they were just giving him pass marks and letting him go on because he was too hard to deal with but how does that help in the long run?
"I understand it was challenge to teach him but the answer isn't just fudging results."
In independent schools this year 61 per cent of students with a disability had ASD, about 48 per cent in the Catholic sector were linked to ASD and there are about 15,000 students with ASD in the state system.
Professor of autism Deb Keen, from the Autism Centre of Excellence, said research showed students with autism did at least as well if not better in inclusive mainstream settings.
Professor Keen also said an analysis of 47 different studies found no evidence other students were disadvantaged by having students with a disability in the classroom.
Open just nine months, the Sycamore School, the first full-time ASD primary school in Queensland, already has a wait list for its classes with three to one teacher student ratios and no expulsion policy.
"Our niche is ASD-specific education and that's because parents have made a strong decision that this is where they'd like their child to go," principal Nigal De Maria said.
Education Minister Kate Jones said all schools were working very hard to cater for every student.
"We are seeing more students with Autism, that's why have increased support including autism coaches in every region," she said.
from http://www.couriermail.com.au/news/queen...
see also https://www.chinchillanews.com.au/news/e...
---
Note: this story is a clear demonstration that Australian law does not protect the right of the child to education ... and that the High Court's Purvis vs NSW decision promotes disability discrimination against students with disability who have unwanted or challenging behaviour associated with their disability.